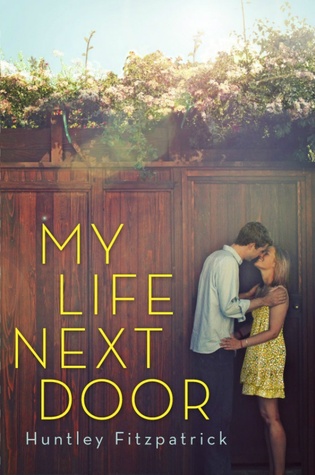 ABOUT
Title:
My Life Next Door
Author:
Huntley Fitzpatrick
Series:
My Life Next Door #1
Publisher:
Dial Books (Penguin)
Get it Here:
Indigo
Amazon
BookDepository
GoodReads Page
Synopsis:

"One thing my mother never knew, and would disapprove of most of all, was that I watched the Garretts. All the time."

The Garretts are everything the Reeds are not. Loud, messy, affectionate. And every day from her rooftop perch, Samantha Reed wishes she was one of them . . . until one summer evening, Jase Garrett climbs up next to her and changes everything.

As the two fall fiercely for each other, stumbling through the awkwardness and awesomeness of first love, Jase's family embraces Samantha - even as she keeps him a secret from her own. Then something unthinkable happens, and the bottom drops out of Samantha's world. She's suddenly faced with an impossible decision. Which perfect family will save her? Or is it time she saved herself?

A transporting debut about family, friendship, first romance, and how to be true to one person you love without betraying another.
5 out of 5 snowflakes!
This book was just what I needed as a pick me up after finishing
We Were Liars
. Though the synopsis of the book may lead you to think that this book is all fluff and sugary sweetness, there is more depth to this book than it seems. It touches on serious topics like addiction and so I wouldn't reccomend those who are too young to read it.
Samantha was an interesting character and I could relate to her in some ways, which is always good. She had always gone with the flow of what her mother wants and not what she truly wants. Throughout the novel, Samantha grows and changes and learns to stand up for herself. Jase. Oh Jase. I love his character and I love his family. I couldn't help but laugh out loud when the novel mentioned that baby Patsy's first word was boob. Jase is adorable and so sweet and charming. He cares a lot about his family and about Samantha and I need a Jase in my life. I dub him as one of my many book boyfriends.
Tim was an interesting character and complex as well. I enjoyed his snark later in the book and I didn't expect his character to develop like that. His twin sister, Nan and also Samantha's best friend developed in a way I didn't completely predict either. She was raw and desperate and I understand the actions that she committed through her desperation. Clay is a real piece of work. I hated him from the very moment he was introduced and the sense of loathing would rise inside of me every time Samantha's mother would do something in the name of Clay or he would say something to either Samantha or her mother.
Also, I didn't expect that to happen near the end, though i suppose I have no idea how the book would have ended without this ending. I felt like some of the lovey bits were rushed in order to move the plot along, but I still thoroughly enjoyed the book and look forward to reading the sequel/companion that deals with Tim and Alice. :)
So I don't have too many quotes from this book because I was mostly just reading and having fun with this one.
"It's a good idea to keep your eye on the guys who think they know the one true path. They might just mow you done if you're in their way."

"George and Harry, my loyal fans, rave to their mother about my accomplishments, while Patsy immediately bursts into tears, points an accusing finger at her mother, and wails "Boob.""
But anyways, this was the perfect pick me up and a great summer read. It's mostly light-hearted and a fun read. I highly enjoyed it and I think I still need some more contemporary in my life. or maybe pick up a fantasy to pull me out.