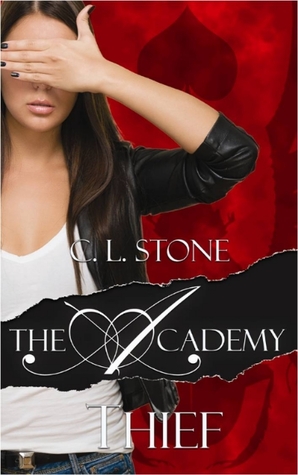 ABOUT
Title:
Thief
Author:
C.L. Stone
Series:
The Scarab Beetle #1
Publisher:
Arcato Publishing
Publication Date:
February 26th 2014
Get it Here:
Indigo
Amazon
GoodReads Page
Source:
e-ARC provided by Arcato Publishing via NetGalley
Synopsis:

Kayli Winchester is a dirt-poor girl living out of a hotel, forced to be the parent for a drunken father and teenage brother who she's desperate to keep in school. The only way she scrapes by is to utilize her one skill: pickpocketing. But even though she's a thief she has a moral code: no kids or old ladies, only targets who can defend themselves. Not that they see her coming…

Thinking she's been working under the radar, Kayli has no idea The Academy has been watching and taking notice. Now a team that needs her skill has offered her a way out of her predicament and it's her last chance: work with them, or face jail time. Kayli resists at first, but slowly the boys reveal they can be trusted. With Marc, the straight man, Raven, the bad-boy Russian, Corey and Brandon the twins as different as night and day, and Axel their stoic leader, there's a lot Kayli can learn from these Academy guys about living on the edge of the law. If only she can stay on the good side instead of the bad.

Especially when the job they offer her is more than any of them bargained for. After it's done, the hunters have become the hunted and their target is now after Kayli. The Academy boys do their best to keep her hidden, but a thief like Kayli will never sit still for long.

Meet an all-new Academy team in Thief, the beginning of the Scarab Beetle series. Warning: This is a new adult series. Readers of the other Academy series may need some caution as this series will contain mature sexual and violent situations and themes.
4.5 out of 5 snowflakes
I really thoroughly enjoyed this novel! Oh gosh. The synopsis really caught my eye because it talks about a girl who steals for a living, and if you don't know by now, crime stories is what I do. And when I found that this was a new adult novel, I expected something rather different than what I got. Though there is
incredible
sexual tension and some really hot kisses, it doesn't really get too much further into it.
There's quite a heavy focus on the relationships between Kayli and the boys in The Academy team and how she has fluttery feelings for most of the team. I thought that all the boys are interesting characters, Marc and Axel in particular because Marc has the sad backstory and Axel has the mysterious leader vibe happening. I personally enjoyed Raven quite a lot. The attitude ridden Russian is charming in his own right. I feel that Kayli's character didn't develop as much as I would have liked her too. Sure she did some soul searching, but I didn't feel like she changed very much throughout the novel.
The plot was great and I really enjoyed this almost vigilante team style of plot. I wish there was more of a focus on how the team worked and how they were going to solve their problems, rather than Kayli being all Mary-Sue like and figuring out the problems in no time. Kayli did have a Mary-Sue like tendency with how she conveniently solved problems and how most of the guys fell for her.
"Bad guys think they're good guys, too."

"I'd rather light my hair on fire."

"This way, if you f**k up, you've only hit someone with one and not the entire magazine."

"Talk like the world is listening in. Usually, because someone is."

"You have to know the rules to know how you can bend them.

"'You told me to get rid of the damn drugs,' he said. I flared at him. 'You blew it up?'"
Still,
Thief
, is a fun read and it was a pleasure to read, though I did get frustrated with Kayli with all her tendencies to run off and stuff. The Mary-Sue-ness kind of irritated me, but I think that my love for the team overshadowed the irritation. I look forward to reading the next book because
that ending though.
I really need to know what happens next and the love interests maaaaaaann. I need MOAR.
Note:
Just found out that there are other books by C.L. Stone about The Academy. Interesting, but I think I'll stick with Kayli and the others first.