Character Love is a feature that I created to share the characters that I love every Saturday!
So this week's Character Love is Daemon Black from the Lux Series by Jennifer L. Armentrout. I might seriously be in love with him. Also, I feel as if this is slowly turning into a book boyfriend feature. Ah well.
Anyways, my headcanon for Daemon is obviously Pepe Toth. How can he not be Daemon?
Pepe is the cover model for the Lux series books and the cover model for Kat is his fiance! Also, he's a professional soccer player!!!
Anyways, Daemon is snarky as all hell and just as hot. I love his character and how hilarious he is, even if at times he's a total ass to Katy. He's so sweet to Katy too and he's so incredibly loyal. I love him so much and want a Daemon of my own, since Daemon belongs to Katy. Ah well.
"Do you think you could stop me? I'll burn down the world to save her."

"Me and Katy look adorkable in extraterrestrial highway shirts. You would just look stupid. You can thank me later."

"What can I say? It's my sparkling personality."

"There's a McDonald's down the street. We'll get you a Happy Meal. Maybe that'll make you happier."

"As you can see, I don't look like a giant insect. Or . . . sparkle. . . Or a lumpy little creature, which I find offensive by the way."

"My lips change lives, baby."
What a bae. Also, can you see why I want my own Daemon Black? Mmmmm. He's the quintessential JLA male character: snarky, oh so hot, and protective. Mmm.
If you've somehow been living under a rock and haven't read the Lux series, here's the synopsis of the first book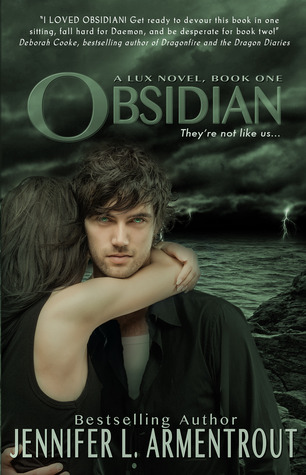 Starting over sucks.

When we moved to West Virginia right before my senior year, I'd pretty much resigned myself to thick accents, dodgy internet access, and a whole lot of boring... until I spotted my hot neighbor, with his looming height and eerie green eyes. Things were looking up.

And then he opened his mouth.

Daemon is infuriating. Arrogant. Stab-worthy. We do not get along. At all. But when a stranger attacks me and Daemon literally freezes time with a wave of his hand, well, something... unexpected happens.

The hot alien living next door marks me.

You heard me. Alien. Turns out Daemon and his sister have a galaxy of enemies wanting to steal their abilities, and Daemon's touch has me lit up like the Vegas Strip. The only way I'm getting out of this alive is by sticking close to Daemon until my alien mojo fades.

If I don't kill him first, that is.
Happy Reading!