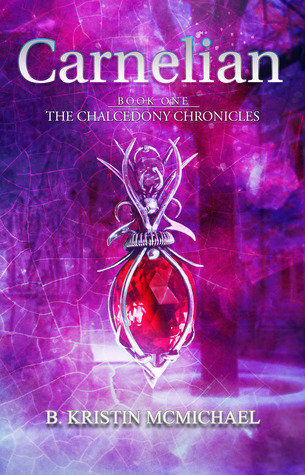 ABOUT
Title:
Carnelian
Author:
B. Kristin McMichael
Series:
The Chalcedony Chronicles #1
Publisher:
Lexia Press
Release Date:
February 1st 2014
Get it Here
:
Indigo
IndieBound
Amazon
Source:
e-ARC via NetGalley
Synopsis:
Everyone has a past, but for most it isn't as long ago as Seth Sangre. His past is literally thousands of years ago. Seth's life led him to the present seeking something that might help him save his country from destruction. He has been in the present for over three years now and just found exactly what he has been looking for.

Mari had dreams that college will be a fresh start, one where she would start over and not fall for the good looking player like high school. Unfortunately for her, that's exactly what ends up falling into her lap on the first day she moves into the dorms. Now she has to hold to her promise to herself and not fall for the handsome Seth. But he doesn't plan to make it easy for her. Seth has already marked her as his next conquest. As the semester progresses, Mari learns that Seth might just have a life of his own that's actually from the past. Suddenly Mari finds her future along with her past put into question. She's connected to Seth far more than she ever wanted to be and maybe the player isn't who she thought he was. If Mari can trust her heart enough to follow him, Seth will lead Mari on an adventure of a lifetime and reveal family secrets she never knew existed
As much as I wanted to, I didn't love this book. There were a bunch of issues that I just couldn't look past no matter how sweet Seth was.
When I finished the book, it didn't feel complete for me. I thought that things were just getting started, when really it was the end of the book. It was the same feeling as when I read DARK INSIDE. It didn't feel complete.
Also, Seth was felt kind of sketchy to me even though he is supposed to be the love interest. There was something about the way he kept her at bay that made me feel like there was another reason why he was keeping her away than the obvious reason.
It was an insta-love situation with Seth and Mari. It happened so quickly that she was avoiding him and staying away from the playboy. Then he explained something to her and she was in love with him and they were dating. No please. And then in the end, Mari, are you serious? Are you kidding me?
I didn't like their relationship much either. It seemed like Mari was obsessed with him and she literally said at one point that she was going to spend every free moment with Seth and quickly threw her friendships to the side.
There wasn't as much character development as I would have liked either. It didn't seem as if Mari grew any as a person nor did Seth grow as a person throughout the entirety of the book. They fell in love. End of story.
Otherwise, I really enjoyed the historical aspects to this book and the way it permeated the story. Overall, it was okay. I don't think I'll read the second book because there were so many things about this first book that bothered me.
Happy Reading, Y'all!