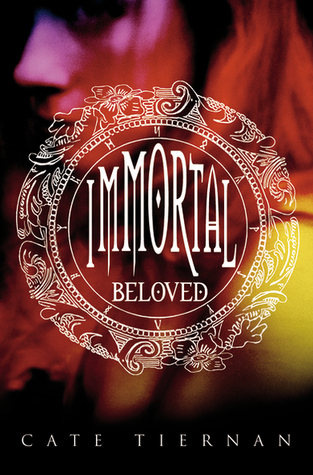 ABOUT
Title:
Immortal Beloved
Author:
Cate Tiernan
Series:
Immortal Beloved #1
Publisher:
Little, Brown Books
Get it here:
Indigo
Amazon
BookDepository
GoodReads Page
Synopsis:

Nastasya has spent the last century living as a spoiled, drugged-out party girl. She feels nothing and cares for no one. But when she witnesses her best friend, a Dark Immortal, torture a human, she realizes something's got to change. She seeks refuge at a rehab for wayward immortals, where she meets the gorgeous, undeniably sexy Reyn, who seems inexplicably linked to her past.

Nastasya finally begins to deal with life, and even feels safe--until the night she learns that someone wants her dead.

Cate Tiernan, author of the popular Sweep series, returns with an engaging story of a timeless struggle and inescapable romance, the first book in a stunning new fantasy trilogy.
I highly highly enjoyed this book. At first I wondered what was going on in this book with a girl named Nasty and a guy named Innocencio. It was weird and strange, but then the whole lore of the immortals grabbed me. I couldn't help but be enamored as I learned more about the immortals and of Nastasya's past.
As I read, I noticed that a lot of Nastasya, I could see in myself which made her very relatable to me. She is an interesting and enjoyable character to say the least. She has attitude and sass that made me laugh out loud sometimes and also had me rooting for her. And as a lot of the book focuses on Nastasya and her internal conflicts, the reader learns more about her than the other characters. However, there was a little scene in the middle of the book that really makes me want to learn more about Innocencio. Also, what sort of name is Innocencio? He's far from innocent.
Although the synopsis implies that there will be heavy romance in the book, it is actually a far cry form that. The book was more focused on self reflection, self discovery and development. There was romance in it, of course, but it was seamless with the plot. It wasn't the main focus and it just happened to be there, and it was both refreshing and enjoyable. And though there was little romance in this book, quality makes up for quantity. Reyn, hot damn.
There was a lot of Icelandic and Nordic history mentioned and I have never read any book that involved that history and it was fascinating, especially with the immortals factoring in. It was evident that TIERNAN put a lot of thought into how the whole concept of Immortals work. It really is a new take on immortals, as the ones created by TIERNAN can get sick and "die" of diseases or other things, it was simply unpleasant to come back to life.
"Being good is something that one must choose over and over again, every day, throughout the day, for the rest of one's life," Asher said. "A day is made of a thousand decisions, most small, some huge. With each decision you have the chance to work toward light, or sink toward darkness."

"Now he was kissing me, not in a scary way, not with hostility, but with warm, seductive intent. In a hayloft, in the barn, in the middle of the night. This scene brought to you by the letters W, T, and F."
Rather than external conflict and action, the book is more about the internal struggles of Nastasya and her growth as a person who is trying to move from the darkness to the light. The reader can watch her grow and learn and change, especially with all the baggage from her several centuries of existence. I was rooting for Nasty and proud of her as she grew up and became a better person throughout the book.
I really cannot wait until the next book and I will probably have to wait a while for it, since I have already bought a ridiculous amount of books this month.