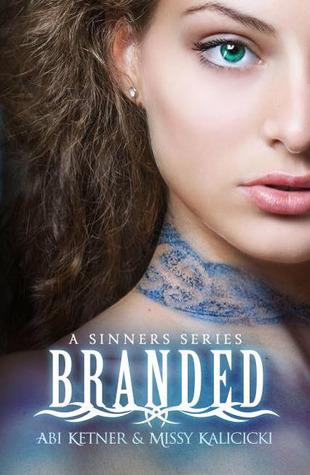 ABOUT
Title:
Branded
Author:
Abi Ketner & Missy Kalicicki
Series:
Sinners #1
Publisher:
Self published
Get it Here:
Amazon
BookDepository
Source:
ebook via NetGalley
Synopsis:
Fifty years ago The Commander came into power and murdered all who opposed him. In his warped mind, the seven deadly sins were the downfall of society.

To punish the guilty, he created the Hole, a place where sinners are branded according to their sins. Sinners are forced to live a less than human existence in deplorable conditions, under the watchful eye of guards who are ready to kill anyone who steps out of line.
Now, LUST wraps around my neck like thick, blue fingers, threatening to choke the life out of me. I've been accused of a crime I didn't commit, and the Hole is my new home.

Constant darkness.

Brutal and savage violence.

Excruciating pain.

Every day is a fight for survival.

But I won't let them win. I will not die in the Hole.

I am more than my brand. I'm a fighter. My name is Lexi Hamilton, and this is my story.
This book wasn't what I expected.
BRANDED is very graphic and full of gore. There is a lot of violence and blood. (just a warning). I don't mind it all that much because I'm kind of desensitized to it all. However, some people may be discomforted by the fact. I think the violence shows an emphasis on the fact that these people in the Hole are "sinners" and the depravity the people are reduced to because of the conditions that the Commander puts them in.
It took me by surprise with just how dark this book is. I thought this would be just another dystopian book that's kind of in the gray area with the darkness level. This book isn't quite as dark as BZRK or UNWIND, but it's nearly there.
I really enjoyed Lexi's character growth and how she became kind of kickass in the end. She's no Celaena Sardothien though. She's very "woe-is-me" in the beginning. I wouldn't blame her though, as I would probably act in the same way if I was branded for a sin I didn't commit.
Cole is also an interesting character to me, because although it seemed he didn't develop all that much in this book, I feel as if he's still hiding something. I would very much like to know what it is.
Something happened to Lexi in her past involving her step father and though they talk about it some in the book, I still don't really know what it is? Maybe they explained it well and I was the one who didn't read carefully enough. I did find myself skimming some parts.
All in all, I enjoyed this book though I didn't fall in love with it per se. It's a great dystopian read though I don't reccomend it for those who can't handle gore very well.
Happy Reading!