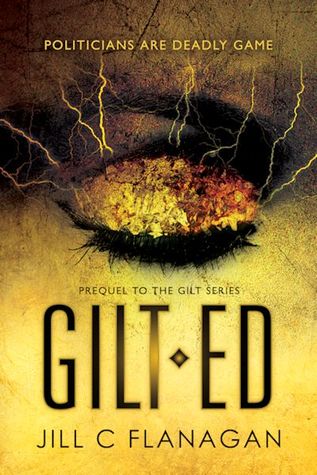 ABOUT
Title:
Gilted
Author:
Jill C. Flanagan
Series:
Gilt #1
Release Date
: May 16th 2014
Publisher:
Wyrd Publishing
Source:
eBook provided by NetGalley
Synopsis:
Ash needs to make money. Her brother is going to trial, her sister is pregnant, her mother's health isn't great and her father is a dreamer who spends all their savings on the next best thing.

Good thing she was brought up to con people. Even better that she has always had a little bit of 'mind magic' as her Mam calls it.

Small cons are all she's ever done. This time her family needs a big chunk of cash and the best way to do that is a long con.

The target? A honeypot scheme involving a powerful man running for Governor .

And the Gubernatorial candidate's Communications Officer? Too bad he's the first guy she's been interested in, well, forever.

Even though politics are dangerous, politicians may be deadly.
This was a strange one indeed. This book is a prequel to a book that's being released this summer called Gilt-y. So in that sense I suppose I can understand that it's setting up the premise and the story for the next one. But man, the main character, Ash, her family is TERRIBLE.
And as a trigger warning, there is rape and abuse in this book.
Her family is a bunch of con artists with Ash's mom being the leader. Their dad doesn't contribute financially to their family and gambles the money away. As a result, as they were growing up, they pulled cons to earn money. Now normally, I enjoy cons. I enjoy cons a lot, especially when they're smart. The main premise of the story is that Ash is pulling a honeypot scheme on a politician in order to extort funds from him.
This book focuses more on Ash and her growing attraction to this employee of the politician she's working for (and also banging), and how she's going to get out of the abusive situation she's found herself in. The tag line on the book cover says, "Politicians are a deadly game." I find this misleading because they aren't playing a game whatsoever. And you would think that because the words "game" and "politicians" are in the same sentence, that there would be some sort of complex struggle of the minds to outwit each other would occur. It doesn't.
Overall, I still don't really know how I feel about this book, but I know that I won't be reading the book that this prequel is setting up.
Happy Reading!