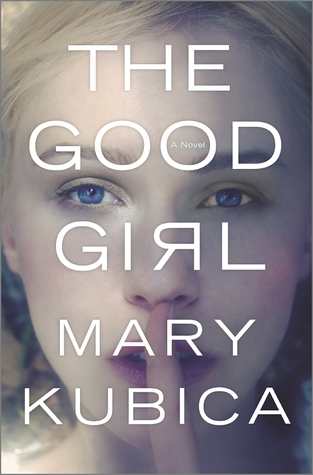 ABOUT
Title:
The Good Girl
Author:
Mary Kubica
Series:
N/A
Publisher
: Harlequin MIRA
Release Date:
July 29th 2014
Get it Here:
Indigo
Amazon
BookDepository
GoodReads page
Source:
ARC provided by GoodReads
Synopsis:"I've been following her for the past few days. I know where she buys her groceries, where she has her dry cleaning done, where she works. I don't know the color of her eyes or what they look like when she's scared. But I will."

Born to a prominent Chicago judge and his stifled socialite wife, Mia Dennett moves against the grain as a young inner-city art teacher. One night, Mia enters a bar to meet her on-again, off-again boyfriend. But when he doesn't show, she unwisely leaves with an enigmatic stranger. With his smooth moves and modest wit, at first Colin Thatcher seems like a safe one-night stand. But following Colin home will turn out to be the worst mistake of Mia's life.

Colin's job was to abduct Mia as part of a wild extortion plot and deliver her to his employers. But the plan takes an unexpected turn when Colin suddenly decides to hide Mia in a secluded cabin in rural Minnesota, evading the police and his deadly superiors. Mia's mother, Eve, and detective Gabe Hoffman will stop at nothing to find them, but no one could have predicted the emotional entanglements that eventually cause this family's world to shatter.

An addictively suspenseful and tautly written thriller, The Good Girl is a compulsive debut that reveals how even in the perfect family, nothing is as it seems….
This book was much more than I expected from the summary. I expected a thrilling crime novel like the shows that I watch and something scarier and darker.
Instead, I got a novel that was seemingly predictable. Key word,
seemingly
. I guessed and sometimes I was right, and sometimes I was wrong. Until it reached the very end. I was very wrong about the end.
This book had a "The Golden Boy" meets "Motive" feel to it: The Golden Boy, a crime show featuring Theo James and plenty of flashbacks in it, and Motive, a Canadian crime show that already tells the viewer who the killer is. Everything is written in present tense and so there's a tone to the story that makes it feel more immediate, even though it flashes back and forth from before and after they found Mia. This book is also written from the perspectives of Colin, the kidnapper, Gabe, the detective on the case and Eve, the mother. The various points of view really allow the reader to empathize with the characters and it really surprised me to empathize with Colin, as I didn't really expect that to happen and rather just to understand Colin's mindset.
None of the characters in this book are really completely good and their complexity is interesting. I think the most interesting character is Mia, the one character whose point of view the novel doesn't delve into until the epilogue. The reader never gets to learn truly how Mia thinks and feels and only rather how others perceived her. And when we finally get to read something from her perspective, it is
very, very interesting.
Overall, this book was quite good. It does deliver on most of what it promises in the synopsis and on the back of the book. It is a psychological suspense story and nothing is as it seems in the perfect family of the Dennetts.
Happy Reading!