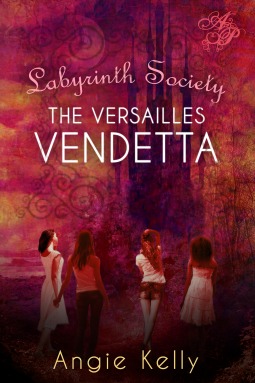 ABOUT
Title:
The Versailles Vendetta
Author:
Angie Kelly
Series:
The Labyrinth Society #1
Publisher:
Astraea Press
Release Date:
May 27th 2014
GoodReads page
Source:
e-ARC via NetGalley
Synopsis:
When 12 year-old Mia Cornell is sent to live at the Tarpley Estate, her ninth foster home, she has no idea what she's in for. Having a kind but mysterious foster mother and three quirky foster sisters is all well and good. Discovering that her new family is a secret society—they use a portal in their garden labyrinth to travel the globe seeking lost art, artifacts, and OSOs (objects of supernatural origin)—is something else entirely.

Mia barely has time to wrap her head around the truth when the Society's latest job, tracking down Marie Antoinette's necklace, goes sideways. Mia and her new siblings—Tomi, the historian; Devon, the hacker; and Lily, the muscle—must use their wits, plus a few cool OSOs filched from the Society's vault, to stay a step ahead of a sinister enemy from their foster mother's past. But just how far back does Mrs. Tarpley's past go? And will Mia stand by her new family or cut and run when they need her the most?
This book was like a middle grade paranormal spy story, but instead of being spies, they're historians. I don't know if any of that made sense, but you'll hopefully see.
This book begins with a prologue that involves the four main characters, Tomi, Mia, Devon and Lily. They talk about themselves and the events that take place during the story and the final outcome of their relationships. Instead of building hype for the story, it lifts the veil on a lot of the mystery and the character development. It would have been better to perhaps build more mystery around the Labyrinth Society.
The meat of the story starts off with Mia, who is an orphan. She learns that she is being adopted by a woman named Mrs. Tarpley. She adopted three other children before her, Tomi, Lily and Devon. They're all mysterious and Mia knows that they're keeping a secret from her, so she decides to take it into her own hands to find out what's going on. Her own curiosity drives her to find her new family in a labyrinth, and as she tries to "help" one of her new sisters, she gets dragged through a portal to Versailles.
The Labyrinth Society saves historical items from the wrong hands and helps museums acquire them. Sometimes they come across "OSO"s, Objects of Supernatural Origins. The children "borrow" some of these items from the vaults of their mansion to help on their missions and this is what I mean by "spy story". The "OSO"s, I feel are spy gadgets as much as they are magical items. There's the Sherlock hat, which is pretty much the iconic Sherlock Holmes hat that changes your appearance to help you disguise yourself. There are also trickster crow eggs, which are pretty much magical smoke screens.
Overall, this was a pretty straightforward mystery story with a ton of historical facts in it, mixed in with some magical elements. I really enjoyed learning the historical bits in the book and there was one reveal near the end that I didn't see coming, which I suppose, is a feat considering how many mysteries I read/watch. Maybe it was just the huge time gap I had in reading this book though. It was enjoyable and I would recommend it for a light and fun read!
Happy Reading!