Waiting on Wednesday is a weekly event hosted by
Breaking the Spine
that spotlights upcoming releases that we're eagerly anticipating.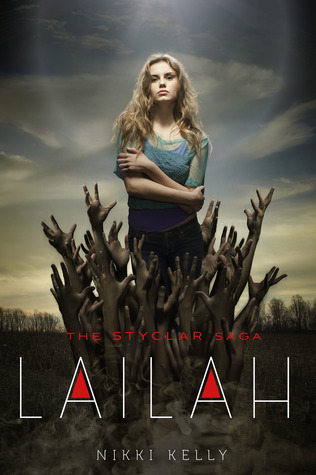 ABOUT
Title:
Lailah
Author:
Nikki Kelly
Series:
The Styclar Saga #1
Publisher:
Feiwel and Friends (A Macmillan Imprint)
Release Date:
October 7th 2014
GoodReads Page
Synopsis:
The girl knows she's different. She doesn't age. She has no family. She has visions of a past life, but no clear clues as to what she is, or where she comes from. But there is a face in her dreams – a light that breaks through the darkness. She knows his name is Gabriel.

On her way home from work, the girl encounters an injured stranger whose name is Jonah. Soon, she will understand that Jonah belongs to a generation of Vampires that serve even darker forces. Jonah and the few like him, are fighting with help from an unlikely ally – a rogue Angel, named Gabriel.

In the crossfire between good and evil, love and hate, and life and death, the girl learns her name: Lailah. But when the lines between black and white begin to blur, where in the spectrum will she find her place? And with whom?

Gabriel and Jonah both want to protect her. But Lailah will have to fight her own battle to find out who she truly is.
Um. Yes? Vampires and angels? Yes please. Also, I have heard nothing but great things about this book and this really sounds like exactly my cup of tea. (or perhaps coffee. I don't drink tea all that much.) ANYWAYS, take a look at that cover. Is that not creepy enough to intrigue you? The atmosphere and the arms remind me of the promo posters for The Walking Dead. And I love The Walking Dead. The synopsis is super intriguing as well. I'm too curious for my own good sometimes.
I'm so incredibly excited for this book! I've really heard nothing but good things and also I am under the impression that there is going to be a lot of feels for this one. If I manage to get approved for an ARC of this, I will be live-tweeting my reading of this one with GIFs of my feels at the request of the ever lovely Nikki Kelly herself. And probably compiling all these feels into a post of course. If I am denied, I'll still do GIF reactions when it releases. :)
Also, Nikki Kelly is super cool and one of my new favourite people <3
Happy Reading!