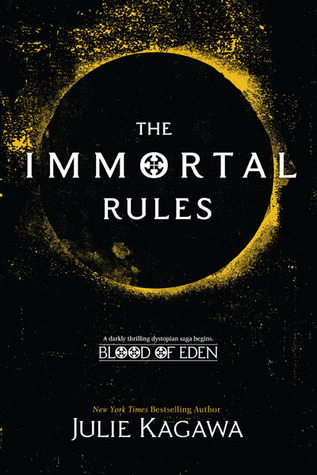 ABOUT
Title:
The Immortal Rules
Author:
Julie Kagawa
Series:
The Blood of Eden #1
Publisher:
HarlequinTeen
Get it Here:
Indigo
BookDepository
GoodReads page
Synopsis:
To survive in a ruined world, she must embrace the darkness…
…
Allison Sekemoto survives in the Fringe, the outermost circle of a walled-in city. By day, she and her crew scavenge for food. By night, any one of them could be eaten. Some days, all that drives Allie is her hatred of them—the vampires who keep humans as blood cattle. Until the night Allie herself dies and becomes one of the monsters.
…
Forced to flee her city, Allie must pass for human as she joins a ragged group of pilgrims seeking a legend—a place that might have a cure for the disease that killed off most of civilization and created the rabids, the bloodthirsty creatures who threaten human and vampire alike. And soon Allie will have to decide what and who is worth dying for…again.
…
Enter Julie Kagawa's dark and twisted world as an unforgettable journey begins.
I don't know why I've waited so long to read this! It was so good!
This is a different type of vampire book because it's set in a post-apocalyptic society where vampires rule and humans are the animals. I highly highly enjoyed this book and I can't wait to get my hands on the second one. Oh geez.
I really enjoyed Allison's character. Even though she was a strong, badass female character, she wasn't impenetrable and she wasn't the typical character who stuck with her morals the whole way through. She had her faults and she was real in that people are selfish and it shows in the life or death moment, especially as Allie is dying and turned into a vampire. (not a spoiler btw. It's in the synopsis.)
The world building is great and the whole backstory of the disease and the rabids is incredibly thought out and though it's explained, some of it is still left a mystery for the readers to find out.
I enjoyed the scenes with Allie's sire, Kanin and when he was training her on how to use her sword, I couldn't help but think of the scenes from the Karate Kid movies. Kanin was kind of hilarious and he's also a tragic character I think.
Zeke. or Ezekiel. I love him. He reminds me a little bit of Liam from THE DARKEST MINDS in the sense that they're so good and genuine, it's almost a little sickening.
"In case you haven't noticed, short people have short legs. I have to take three steps to one of yours, so stop griping."

"I wished I could've said I would rather die than become a bloodsucker. I wished I had the courage, the strength, to stick with my convictions. But in reality, when faced with death and the great unknown that came after, my survival instinct snatched wildly at whatever lifeline was offered. I didn't want to die. Even if it meant becoming something I loathed, my nature was, first and always, to survive."

"The vampire's fangs were surgical instruments, precise and dangerous, almost elegant."
I enjoyed the story of Allie and following her journey. There's a little bit of self discovery in there, but it's very much action packed. I really can't wait to get my hands on the second one.
Happy Reading!