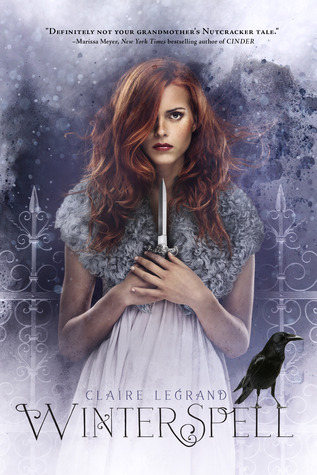 ABOUT
Title:
Winterspell
Author:
Claire Legrand
Series:
N/A
Publisher:
Simon & Schuster Books for Young Readers
Release Date:
September 30th, 2014
Get it Here:
Indigo
Amazon
B&N
BookDepository
Goodreads Page
Source:
e-ARC from publisher via Edelweiss
Synopsis:

The clock chimes midnight, a curse breaks, and a girl meets a prince . . . but what follows is not all sweetness and sugarplums.

New York City, 1899. Clara Stole, the mayor's ever-proper daughter, leads a double life. Since her mother's murder, she has secretly trained in self-defense with the mysterious Drosselmeyer.

Then, on Christmas Eve, disaster strikes.

Her home is destroyed, her father abducted--by beings distinctly not human. To find him, Clara journeys to the war-ravaged land of Cane. Her only companion is the dethroned prince Nicholas, bound by a wicked curse. If they're to survive, Clara has no choice but to trust him, but his haunted eyes burn with secrets--and a need she can't define. With the dangerous, seductive faery queen Anise hunting them, Clara soon realizes she won't leave Cane unscathed--if she leaves at all.

Inspired by The Nutcracker, Winterspell is a dark, timeless fairy tale about love and war, longing and loneliness, and a girl who must learn to live without fear.
This book was certainly not what I expected. I've never actually seen The Nutcracker, but it's a classic Christmas story, so I didn't expect WINTERSPELL to be so dark. (I wiki'd the story of the Nutcracker after reading)
Anyways, like I said, this book is darker than I'd expected. It's not gritty or anything, but there's a war in the other world, Cane, between the faeries and the humans. There has always been a hatred between the faeries and the humans. The humans hated them for being mysterious about their magic, while the faeries hated the humans for cutting them open for experiments and to see how their magic worked. Anise, the faery queen, rules the land of Cane through fear and magic and Prince Nicholas attempts to regain his throne.
I actually quite liked Anise. As Clara met Anise and the confrontations happened, I could understand and see the reasoning behind her actions. I don't like what she resorted to, but I couldn't outright hate her. I like how Anise was written in a way that the reader could see past the fact that she's supposed to be the villain and also just see her as a person.
Let me just say, while I did enjoy, kind of, the steamy bits between Clara and Nicholas, I don't like him. I liked him in the beginning, and then he did the thing and I couldn't understand how Clara could forgive him. Seriously. I don't know what she sees in him. By the end, the only redeeming things about him for me were that he was a good kisser, it seemed like, and that he was hot. Also, it was pretty much stated that Nicholas is much older than eighteen years old and I think Clara is seventeen or eighteen? I'm a bit wary about that age difference.
And Clara. I have some words to say about you, young lady. In the beginning, when she first goes to Cane, it's so clear that she's full of rage over her mother's death, her father's kidnapping and the responsibilities that were thrust upon her because of her father's dealings with Concordia. It also doesn't help that some truths are revealed and she learns that she's been lied to for a very long time. She's eager to just put the blame on somebody, anybody, just to have someone to hate. She's pretty much loyal to a fault and she's very good at manipulation.
I love how even after the book is finished, I don't know which side of the war to root for. Both of them have done terrible things and I just rooted for Clara the entire way. I just wanted her to get in, get her father and get out. Leave the war to those who are involved in it. But of course, she's the protagonist and nothing is ever as simple as that. Also, there's a steampunk sort of feel to Cane since faeries use metal gloves to concentrate their magic as weapons and there's a lot of metal machinery that is woven into beings because of Anise's magic.
I really enjoyed this book, particularly Anise. I would recommend this book to people who enjoy retellings and those who are into this kind of "idk-what-side-to-pick" book. And I guess those who enjoy hot book boys as well.
Nicholas
. *glares*
Happy Reading!