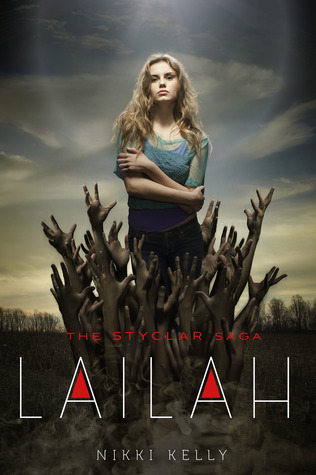 ABOUT
Title:
Lailah
Author:
Nikki Kelly
Series:
The Styclar Saga #1
Publisher:
Feiwel and Friends
Release Date:
October 7th 2014
Get it Here:
Indigo
Amazon
B&N
BookDepository
Goodreads Page
Synopsis:
The girl knows she's different. She doesn't age. She has no family. She has visions of a past life, but no clear clues as to what she is, or where she comes from. But there is a face in her dreams – a light that breaks through the darkness. She knows his name is Gabriel.

On her way home from work, the girl encounters an injured stranger whose name is Jonah. Soon, she will understand that Jonah belongs to a generation of Vampires that serve even darker forces. Jonah and the few like him, are fighting with help from an unlikely ally – a rogue Angel, named Gabriel.

In the crossfire between good and evil, love and hate, and life and death, the girl learns her name: Lailah. But when the lines between black and white begin to blur, where in the spectrum will she find her place? And with whom?

Gabriel and Jonah both want to protect her. But Lailah will have to fight her own battle to find out who she truly is.
UM. UM. So guys. I have a new book boyfriend and his name is Jonah. He's a hot, swoony vampire who makes my heart melt. So yeah.
I had some really high expectations for this one and I'm glad to say that it didn't disappoint. I mean, how can I be on the Styclar Street Team and not like the book? That would just be terrible.
Anyways, from the beginning the story had a "gray overtone" to it. Do you know what I mean? Probably not. There was that sort of gray overcast lighting to the entire book. It might just be because of the lighting on the cover, because it was raining most of the week that I read it or because I was listening to Lana Del Rey. It was very moody and there was a lot of pathetic fallacy in this one. And they're also in England, so rain.
Right. Plot. There were a lot of predictable things to me for this one, but there were some things that really caught me off guard that obviously, I can't tell you. But seriously, holy shit. I really like the whole angel and vampire thing because once we learn about the origin stories of both the paranormal creatures, it's clear that there is an
evil
side and a "not so evil, but not good either" side. They see themselves as light and dark and it is a part of them, the lightness and darkness. However, the world isn't like that and is really just made up of an array of grays. And it is through this "grayness" that the conflict in Lailah arises.
There are two hot guys in this book that Lailah has to choose from: Gabriel, the angel, or Jonah, the vampire. I am totally Team Jonah. Like. Irrevocably, undeniably Team Jonah. I'm kind of in love with him. I totally get why some people are Team Fence, in which they don't know who to choose, between Gabriel or Jonah.
Gabriel is the light. He's an angel after all. He's kind to Lailah and protects her. She finds herself drawn to him and he knows her past. And the thing is, because he knows of her past, he is almost drawn to an idea of her rather than who she really is, even if Lailah herself doesn't know it. I don't like him. I am appreciative that he's protective of her and that he wants to help her, but he has so many secrets of his own that I can't put my trust in him.
Now, Jonah on the other hand, is a sassy, charming vampire who is damaged. (That checks off
a lot
of the boxes on my book boyfriend requirements list) He meets Lailah for the first time when she runs into him and he loves her and accepts her for who she is. He's
so
sweet to her and some of his lines just had me sighing out loud and silently squealing. I freaking love him.
Lailah is innocent and the fact that she doesn't remember her past sends her on a journey to find herself and who she is. However, holy shit, girl needs to open her eyes. The clues to her own story were right in front of her. Maybe she just chose not to see them out of denial. I want her to choose Jonah just because I want to read more swoony moments of his, but also Gabriel because I want Jonah for myself. (sorry, not sorry) Lai, sweetie, you've got a whole load of crap to deal with ahead of you. Good luck girl, you're going to need it.
And with that ending too. I look forward to seeing Lailah maybe, hopefully kicking some butt in Book 2.
Lailah is action packed and fast paced with swoony book boys that will make you sigh out loud. Definitely pick this one up guys. Seriously.
Here's my moodboard for Lailah. All pictures were taken off of pinterest.
Happy Reading!