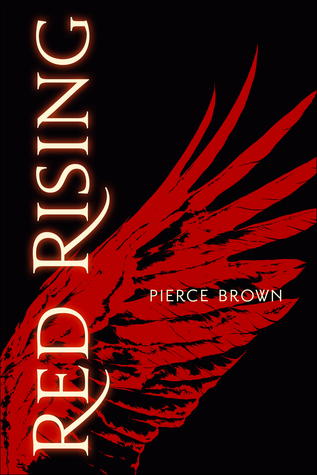 ABOUT
Title:
Red Rising
Author:
Pierce Brown
Series:
Red Rising Trilogy #1
Publisher:
Random House
Release Date:
January 28th 2014
Goodreads Page
Get it Here:
Indigo
Amazon
BookDepository
B&N
Source:
e-ARC provided by publisher through NetGalley
Synopsis:

The Earth is dying. Darrow is a Red, a miner in the interior of Mars. His mission is to extract enough precious elements to one day tame the surface of the planet and allow humans to live on it. The Reds are humanity's last hope.

Or so it appears, until the day Darrow discovers it's all a lie. That Mars has been habitable - and inhabited - for generations, by a class of people calling themselves the Golds. A class of people who look down on Darrow and his fellows as slave labour, to be exploited and worked to death without a second thought.

Until the day that Darrow, with the help of a mysterious group of rebels, disguises himself as a Gold and infiltrates their command school, intent on taking down his oppressors from the inside. But the command school is a battlefield - and Darrow isn't the only student with an agenda.
Oh hell. Can I get the next book in my hands now please?
This book was fantastic and I seriously need to get my hands on a hard copy. I've been wanting to read this book since I read the synopsis when it was an Indigo Spotlight book. I can't believe this is a debut. It's a little hard for me to review this book since I flew through it. (More like I'm having issues articulating myself because of the feels.)
I started this book during my commute, and let me just say, there were tears shed near the beginning because of things and the feels.
Since the synopsis said something about Darrow having a wife, I would have thought that he would be older than the sixteen years he is when the book starts off. Darrow is definitely someone I root for. Despite some of the things he does, I understand why he did them and his mission. He's a strong, driven character and a born leader. He makes mistakes and stumbles through leading his army, but as with all heroes, they learn from their mistakes and carry on. Darrow did so and he is made of stern stuff. He's definitely my kind of Book Boyfriend material.
This book is seriously written well. When Darrow discovers that he's been deceived his whole life, (in fact, everyone of his caste has been deceived for hundreds of years), I felt Darrow's rage. I was angry for him, I was angry with him. I could really feel myself going along with Darrow on his journey, the transformation he underwent in order to become a gold.
The world building is absolutely fantastic. It tells you all you need to know about the world without dumping a massive load of info on you. There's definitely a lot of details that went into to making his world. There's a large mix of different cultures melded together into the society presented in Red Rising. There's definitely a major influence from the Greek and Roman mythologies and the Roman army practices of using standards and titles like "praetor".
I said I was going to go and sleep the night away. I ended up going to sleep at two in the morning knowing I'd have to wake up at 6 in the morning and not having done my required readings. This book is consuming and a page-turner that keeps you on the edge of your seat wondering what Darrow will do next.
It's non stop action and you can tell that this book is the first in what is to be an epic saga. This book is bloodydamned fantastic and I urge you all to read it!
Happy Reading!