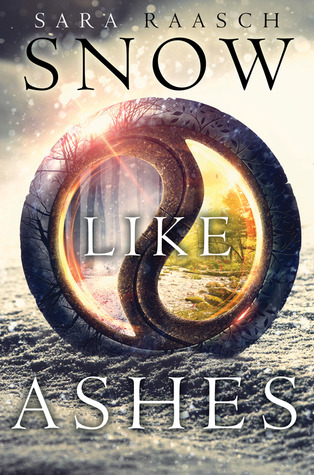 ABOUT
Title:
Snow Like Ashes
Author:
Sara Raasch
Series:
Snow Like Ashes #1
Publisher:
Balzer + Bray
Release Date:
October 14th 2014
Get it Here:
Indigo
Amazon
B&N
BookDepository
Goodreads Page
Source:
e-ARC via publisher through Edelweiss
Synopsis:
A heartbroken girl. A fierce warrior. A hero in the making.

Sixteen years ago the Kingdom of Winter was conquered and its citizens enslaved, leaving them without magic or a monarch. Now, the Winterians' only hope for freedom is the eight survivors who managed to escape, and who have been waiting for the opportunity to steal back Winter's magic and rebuild the kingdom ever since.

Orphaned as an infant during Winter's defeat, Meira has lived her whole life as a refugee, raised by the Winterians' general, Sir. Training to be a warrior—and desperately in love with her best friend, and future king, Mather — she would do anything to help her kingdom rise to power again.

So when scouts discover the location of the ancient locket that can restore Winter's magic, Meira decides to go after it herself. Finally, she's scaling towers, fighting enemy soldiers, and serving her kingdom just as she's always dreamed she would. But the mission doesn't go as planned, and Meira soon finds herself thrust into a world of evil magic and dangerous politics – and ultimately comes to realize that her destiny is not, never has been, her own.
This book is one of the prime examples of why I love fantasy so much. Ugh <3
First, can we talk about the cover? I love it to pieces! It's got the chakram that Meira uses up on the front and I love how the snow is out of focus near the bottom. (I'm a little bit of a design freak). This cover is B.E.A. utiful.
This book is fabulous. If you didn't know, this blog is named after two of my great loves, winter and coffee. So it is so much fun to read a book with my favourite season personified. This idea is incredibly original and so refreshing to read something so new and vibrant. SNOW LIKE ASHES is a YA fantasy that can be comparable to Throne of Glass and Graceling with kickass, flawed heroines.
Meira frustrated me to no end from the start. Her stubbornness and how headstrong is clear from the beginning and I could already tell that she was nudging herself into dangerous territory. I could only mentally yell at her as she continued on with what she was doing.
I was a little wary of Mather in the beginning because of the weird "I shouldn't like you but I do" thing that Meira has going on with him. Also because he's the king of Winter and Meira is pretty much the only girl his age that he's ever encountered in his entire life(?). Mather is pretty much a stand up guy, though he does make some questionably honourable choices later in the book.
I really like Theron. Really. Like. Theron. Guess what? I found some royalty for my book boyfriend harem. I also couldn't help but think of Charlize Theron every time his name came up. Theron was sweet and understanding. He was supportive of Meira and didn't belittle her. Even Meira could see that he treated her as his equal and that they were on equal footing. When shit happens, he's right there by her side. It also doesn't hurt that he's hella hot too. Unf. And there is a shirtless scene with both Theron and Mather. Thank you, Sara! :D
I was surprised in the best way with SNOW LIKE ASHES because things that happened, I didn't expect, though I probably should have seen it coming. The plot moved quickly, which I love because I love action and there is certainly a lot of that in this book.
I'm most definitely excited for this book to come out and for the next book to come out. Fantabulous!
Happy Reading!