So. So. I thought about taking pictures. I even had my camera with me. An actual camera. But I didn't. Because I'm lazy. And I wanted to enjoy the day with the Biffles, especially since I was pretty stressed from Uni and didn't want to have to think about taking nice pictures for a blog post.
HOWEVER. I did buy some things and grabbed some cool stuff that I can show you.
I used to go to Word on the Street when I was really young and I had a lot of fun at them. But then I stopped going for some reason. This is my first time going in years and I'm kind of happy with the experience. There were a lot of indie publishers that I didn't really check out. It was hot. Like. Really hot. (I consider it to be hot when it gets past 23 degrees Celsius. Don't judge me. I'm a winter person) And the Biffles and I were wearing black. Needless to say, we walked around quickly, and then went to Starbucks.
So here are the books that I bought at WORD ON THE STREET.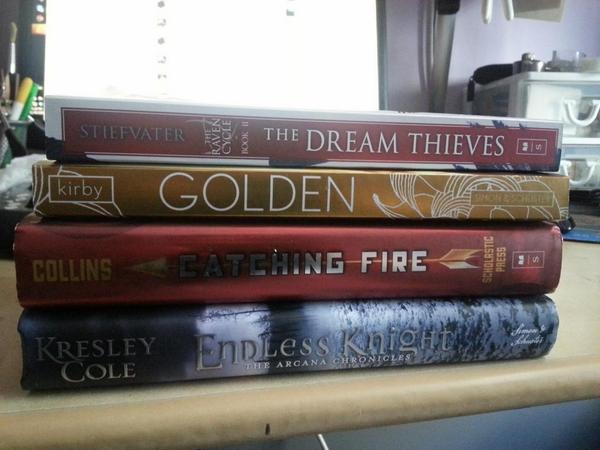 I spent about maybe $22 in total for this haul of books, which isn't bad. I got The Dream Thieves from the Mabel's Fables booth. They were pretty cool and friendly. One girl was wearing an "I Read YA" button and so I said, "nice button." And she said, "Thanks. You want one?" And uh. Of course I said YES. So she handed me and the Biffles a pin after I bought The Dream Thieves and the Biffles bought More Than This by Patrick Ness.
I picked up Catching Fire, not at one of the booths, but actually at the Victoria College used book sail. Victoria College is one of the many colleges in University of Toronto. They're basically like homerooms for U of T. And so they were having a used book sale and obviously I headed to the YA section. There were so many copies of the Twilight books there. Like. So. Many. And there were two copies of City of Bones there. I picked Catching Fire up because even though I've read them all, I only own the first book. (Which I'm proud to say is a first edition.) So there's that.
The last two, Golden and Endless Knight, I got at the Simon and Schuster tent. There was a girl with cool blue hair and I was so jealous of her Throne of Glass tote. So. Jealous. I told her, "Nice bag." she smiled and said thanks. Inside, I was wanting to know where she got it. Maybe she went to a book thing. I dunno. I really want that Throne of Glass bag. ANYWAYS. I got Golden and Endless Knight there for $3 a piece. The hardcovers were supposed to be $5, but Endless Knight got discounted because of a little water damage from that morning's rain. So. CHEAP BOOKS. <3
I also got some SWAG from the Harper Collins booth. There were SO many people there that I couldn't find any books that I wanted, especially since all the YA books were peppered throughout the booth so you had to go and look at all the sides of it.
Here's the swag that I got.
I'll probably stick the excerpt booklet into a future swagalicious giveaway. So thanks HarperCollins for the supercool swag. I especially love that Doctor Who one. Woo!
So yeah. That was my experience with Word on the Street. We left kind of early for whenever we do things because we both were swamped in work for uni. So yeah. I'm thinking of going to the book fair in November too. It sounds hella fun. :)
Happy Reading!