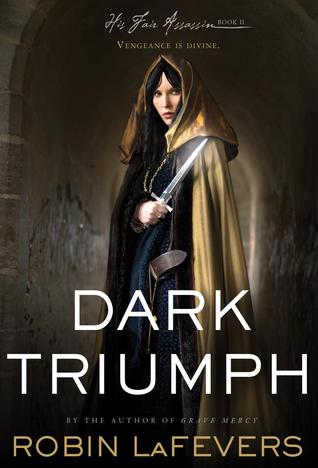 ABOUT
Title:
Dark Triumph
Author:
Robin LaFevers
Series:
His Fair Assassin #2
Publisher:
Houghton Mifflin Books for Children
Release Date:
April 2nd 2013
Get it Here:
Indigo
Amazon
B&N
BookDepository
Goodreads Page
Source:
e-ARC from publisher via NetGalley
Synopsis:
When Sybella arrived at the doorstep of St Mortain half mad with grief and despair the convent were only too happy to offer her refuge - but at a price. The sisters of this convent serve Death, and with Sybella naturally skilled in both the arts of death and seduction, she could become one of their most dangerous weapons.

But her assassin's skills are little comfort when the convent returns her to the life that nearly drove her mad. Her father's rage and brutality are terrifying, and her brother's love is equally monstrous. But when Sybella discovers an unexpected ally she discovers that a daughter of Death may find something other than vengeance to live for...
Oh my gosh. I didn't think I would love the sequel as much as or even more than I loved Grave Mercy.
Dark Triumph focuses on Sybella's personal journey and her back story. Man is it
tragic
. Sybella has gone through a lot and has had to put up with the horrors of her family. She deals with her tragedy the only way she knows how: by provoking others and being snarky, as evident in Grave Mercy. In this novel, we truly get to see behind her mask and see the true depth of Sybella's character. We learn the reasons for her actions and to understand her better. I personally wasn't a fan of her when I read Grave Mercy, because she was so unnecessarily snarky. However, once I read Dark Triumph, I
definitely
took that all back. She's such an incredibly badass character who'll do anything for the ones she loves, even putting herself back in to the horror that she so vehemently opposes.
I really love Beast too. He's a giant of a man who's not very pretty. He's ugly, in fact, as Sybella so often calls him. However, he's kind and loyal. He helps Sybella on her personal journey to forgiveness and it's beautiful to see their relationship unfold.
Once again, I highly enjoy the setting that the His Fair Assassin series takes place in. I tend to be more interested in the historical fiction that takes place in any time before the Industrial Revolution. It also doesn't hurt that there's touches of fantasy in there. Grave Mercy introduced us to the political atmosphere of the world in the series, while Dark Triumph gives us a more personal account of living in that world and the people affected by the war.
The way that Robin Lafevers writes this book really made me feel for Sybella. I cried, I sobbed, I glowed. I truly felt like I was with her the entire journey as I watched her encounter horrors and regain her faith. Dark Triumph is truly incredible and I can't wait to pick myself up a copy as well as start Mortal Heart, of which I have won an ARC copy of!
Happy Reading!