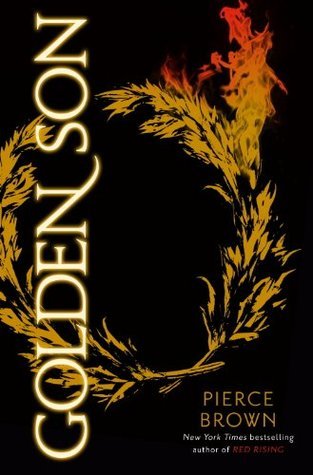 ABOUT
Title: Golden Son
Author: Pierce Brown
Series: The Red Rising Trilogy #2
Publisher: Random House
Release Date: January 6th 2015
Source: e-ARC from publisher via NetGalley
Synopsis:

With shades of The Hunger Games, Ender's Game, and Game of Thrones, debut author Pierce Brown's genre-defying epic Red Rising hit the ground running and wasted no time becoming a sensation. Golden Son continues the stunning saga of Darrow, a rebel forged by tragedy, battling to lead his oppressed people to freedom from the overlords of a brutal elitist future built on lies. Now fully embedded among the Gold ruling class, Darrow continues his work to bring down Society from within. A life-or-death tale of vengeance with an unforgettable hero at its heart, Golden Son guarantees Pierce Brown's continuing status as one of fiction's most exciting new voices.
Is it possible for your heart to be utterly smashed to pieces by a book? Well. I suppose so, because that's what happened to me after reading Golden Son.
I had super high expectations for Golden Son, especially with the incredible first book and all the hype I had been hearing about Book 2. Golden Son definitely does not suffer from Second Book Syndrome.
In the first book, we see a glimpse into the horrors of the world that Pierce Brown has built, with the war game and the ways Golds treat other people. However, as Darrow is thrust into the political games of the Golds and their tricky ways, we truly get to see the Golds in all their (horrible) glory.
Darrow continues to grow and learn from his mistakes, which I especially like. He's still stumbling along and finding a way to somehow free his family. I like that he doesn't know what he's doing and that there's no all knowing entity that can give him the answers he seeks. He goes through so much in this book that I found myself yearning to experience his easier days in Red Rising. And his days in Red Rising were
rough.
Sevro is back in this book of course as is most of the cast from the first book (those that didn't die anyways). Despite all the emotional turmoil and the severity of the situations they find themselves in, I'm glad that he manages to provide some semblance of comic relief. I love Sevro, and his loyalty to Darrow. There's also, what I found to be comic relief in Praetor Kavax and his son Daxo, Pax's family. They are these massive mountains of men, even amongst the Golds. Praetor Kavax, Pax's father, has a red fox named Sophocles as a pet and feeds him jellybeans. He also believes in magic.
We definitely learn more about some of the characters we met in Red Rising and some of it is clarifying and some of it is just heartbreaking.
This book is saturated with anger and grief and the yearning for a better world. After reading it, I'm left feeling emotionally taxed. This book will rip your heart out and grind it into dust. But it's so so good and will leave you wanting more. It's a "It hurts so good" kind of situation. I can't wait for the last book in the trilogy to be released now. All I want is some happiness for the characters and for Darrow's goal to be achieved. I think he's gone through enough turmoil in his short life so far.
I can't wait for you all to read this book and enjoy it and suffer my heartbreak as well. (Muahaha) Seriously. This debut series is incredible. Pierce Brown drags you into the novel with his writing and the world, and doesn't let you go until you've finished the book. It's action packed and there's never a dull moment.