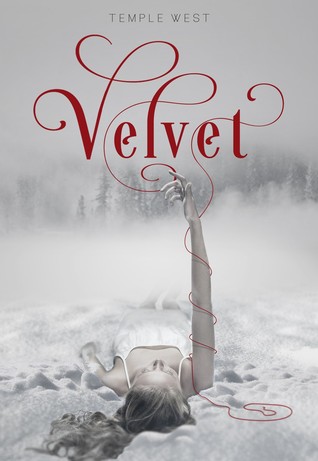 ABOUT
Title: Velvet
Author: Temple West
Series: Velvet #1
Publisher: Swoon Reads
Release Date: May 12th 2015
Source: ARC via publisher
Synopsis:
First rule of dealing with hot vampire bodyguards? Don't fall in love.

After losing both her parents before age seventeen, aspiring designer Caitlin Holte feels like her whole world has been turned upside down, and that was before the terrifying encounter with a supernatural force. Then, she learns that her hot bad-boy neighbor, Adrian—who might have just saved her life—is actually a half-demon vampire.

Suddenly Caitlin is stuck with a vampire bodyguard who feels that the best way to protect her is to become her pretend boyfriend. Trouble is, Caitlin is starting to fall in love for real, while Adrian can never love a human. Caitlin trusts Adrian to keep her safe from his demon father, but will he be able to protect her heart?
Reading this book made me so happy. I couldn't stop smiling probably through the first two thirds of the book. VELVET is written in first person from Caitlin's perspective, so we get to see everything from her side and experience her internal monologues. I could really hear Caitlin's voice as I was reading because her internal monologues are so unintentionally hilarious and her dialogue with Adrian is similarly hilarious. It's not so much funny as in blatant jokes, but it's witty and snarky in the way that I love.
I really enjoyed all the scientific explanations as to how the vampires in this world worked. It's clear that Temple put time into creating a perhaps plausible reason for the way they work. (I'm not a life sciences major and so I would have to ask my friends. ;) ). There's a lot of thought put into the lore behind demons and vampires as well, which I really enjoyed because it's different from anything that I've ever read.
I really like Caitlin's character. She's hilarious, though it may be unintentional. She's not a stupid or completely helpless heroine. She's just not quite properly equipped to deal with demons herself. I enjoyed watching her open up to others through out the book, since she starts off acting quite cold. It's understandable though, as her mother just passed away.
Adrian de la Mara. Can I say
swoon
? He's a tall broody vampire that with great style, rides a Harley and is secretly a nerd. Also his house cough
mansion
cough has a library with floor to ceiling bookshelves, with rolling ladders. You can also use a harness to jump and swing around in the air,
in his library
. Besides his fabulous library, he's super sweet to Caitlin and for the most part, a pretty great guy. (
the library you guys.
)
Besides Adrian and Caitlin, my favourite has to go to Lucian. Lucian is an eleven year old vampire who lived with his father (a demon) in hell for ten years, before Adrian's family took him back from hell. Because of this, he doesn't understand social cues or social norms, and generally just a lot of "normal" things. I find him adorable. He's just a poor misunderstood child.
I knew I was going to love this book back when I read the quotes that Temple was putting out back in July of last year and I'm so happy I wasn't disappointed. I can't wait for you guys to read and love it as much as I do. VELVET is a fabulous YA vampire novel that will have you laughing out loud with its distinct voice and of course, swooning, over the romance.
I decided to create a moodboard for Velvet, since I loved it so hard! I hope you guys like it. :D
Happy Reading