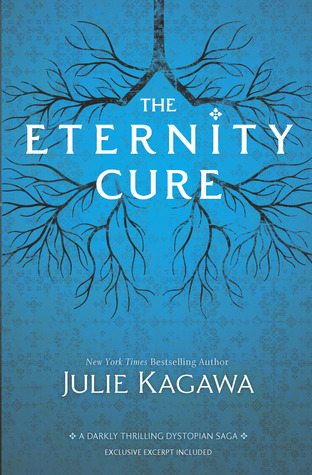 ABOUT
Title:
The Eternity Cure
Author:
Julie Kagawa
Series:
Blood of Eden #2
Publisher:
HarlequinTeen
Get it here:
Indigo
Amazon
BookDepository
GoodReads Page
Synopsis:
In Allison Sekemoto's world, there is one rule left: Blood calls to blood

She has done the unthinkable: died so that she might continue to live. Cast out of Eden and separated from the boy she dared to love, Allie will follow the call of blood to save her creator, Kanin, from the psychotic vampire Sarren. But when the trail leads to Allie's birthplace in New Covington, what Allie finds there will change the world forever—and possibly end human and vampire existence.

There's a new plague on the rise, a strain of the Red Lung virus that wiped out most of humanity generations ago—and this strain is deadly to humans and vampires alike. The only hope for a cure lies in the secrets Kanin carries, if Allie can get to him in time.

Allison thought that immortality was forever. But now, with eternity itself hanging in the balance, the lines between human and monster will blur even further, and Allie must face another choice she could never have imagined having to make.
(Ha. I wrote this review in June of last year and I'm only posting it now. Oh man.)
Julie Kagawa, you evil, wonderful author, you. Man. I haven't cried over a book like that in quite some time.
I looked up the third book in the series wondering if there was a paperback version already (there isn't), and managed to spoil myself big time for this book. However, Kagawa managed to do it in a way that I didn't see it coming, which is good. I went through this entire book with a sense of apprehension because of the spoiler. It really snuck up on me though and I'm glad it did. Oh man.
I really enjoyed Jackal's character in this one, even though I hated him in the last one for obvious reasons. He is snarky and though he can be ruthless and tends towards the psychopathic, he has a certain charismatic quality to him that I couldn't help but love.
And though Allie didn't do as much character development in this one as she did in THE IMMORTAL RULES, she still has a constant struggle between trying to retain her humanity and the monster inside her. Jackal is constantly telling her that humans are nothing but bloodbags and Allie struggles with this since she's only several months into her new life.
Throughout the first and the second novel, there's a running theme of being a monster and no matter how much they try to be human and sympathize with the humans, they will always be monsters. Allie is constantly contrasted with the older vampires, Jackal and Kanin, who have for the most part, embraced that they are monsters. This is especially true for Sarren, whose mind has completely broken and clings to some sort of twisted logic.
"Oh, well. That's humans for you, always so disgustingly mortal."

"Who are you trying to fool? People are food. You know it as well as I do. So don't expect me to feel terribly guilty about killing your humans, not when you reek of blood and death. You're not any less of a monster than I am."
These are both Jackal quotes. I really love some of the things he says in this book. Snark is one of my favourite things to read. Probably not one of my favourite things to receive.
I look forward to reading THE FOREVER SONG incredibly. I feel bad for those who had to wait until the entire series was out. I only started this after the last book released. Ah well. I think this series has a permanent place on my favourites of all time shelf. Well done Julie Kagawa!
Happy Reading!