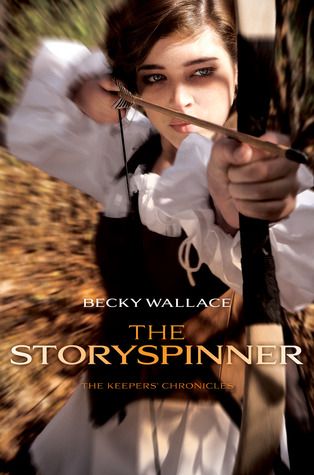 ABOUT
Title:
The Storyspinner
Author:
Becky Wallace
Series:
The Keepers' Chronicles #1
Publisher:
Margaret K. McElderry
Release Date:
March 3rd 2015
Get it Here:
Indigo
Amazon
B&N
BookDepository
Goodreads Page
Source:
e-ARC via Edelweiss
Synopsis:
Drama and danger abound in this fantasy realm where dukes play a game for the throne, magical warriors race to find the missing heir, and romance blossoms where it is least expected.

In a world where dukes plot their way to the throne, a Performer's life can get tricky. And in Johanna Von Arlo's case, it can be fatal. Expelled from her troupe after her father's death, Johanna is forced to work for the handsome Lord Rafael DeSilva. Too bad they don't get along. But while Johanna's father's death was deemed an accident, the Keepers aren't so sure.

The Keepers, a race of people with magical abilities, are on a quest to find the princess—the same princess who is supposed to be dead and whose throne the dukes are fighting over. But they aren't the only ones looking for her. And in the wake of their search, murdered girls keep turning up—girls who look exactly like the princess, and exactly like Johanna.

With dukes, Keepers, and a killer all after the princess, Johanna finds herself caught up in political machinations for the throne, threats on her life, and an unexpected romance that could change everything.
I absolutely adore the world that was created in this book. It's always fun to read a book that is about people (sans magic powers) fight against those with magic. There are the Keepers, those with powers, who live on one side of a giant magical wall and the normal people who live on the other side. One of the main characters, Johanna, is a performer and she travels with her troupe and family to perform all over the kingdom. The Performer life is very interesting since they pretty much have their own culture and their own laws that are different to the culture in the rest of the country.
Can I just say sexual tension? Sexual tension everywhere. This book is told in multiple points of view and there's at least five of them. It was a little hard in the beginning to follow along with the switching points of view and keep track of the characters, especially since there are points of view from both sides of the wall. The tension between Rafi and Johanna wasn't quite as bad as Pira and Leão. Reading about Pira and Leão just made me want to do that meme that pushes their heads together and says "Now kiss!" On the other hand, I love the way the relationship between Rafi and Johanna unraveled. It was slow and gradual and they are so adorable together. I can't wait to see more of them in the next book! I want to learn more about Jacaré simply because he's
so old
and it would be great to learn more about his past and in turn the history of this world.
The plot is great and it really allows us to immerse ourselves into the world of The Storyspinner, since we get to see from both sides of the wall. However, it's very much a build up towards something bigger. This is fantasy after all and so I shouldn't really be surprised. The ending really leaves you wanting more since it ends in the same way as the first episode of a two part story line in a crime drama.
I can't wait to read the next book to see what happens. I would love to see more political intrigue in the next book and of course I don't doubt that there's going to be more adventuring. I love Rafi and Johanna and I can't wait to see more of the two of them.
Happy Reading!