Hellooooo my lovelies!
I had the wonderful opportunity to interview Temple West, author of Velvet! I read and reviewed Velvet, and you can read my review and see the Moodboard I made for it,
here
.
First, here's some info on Velvet!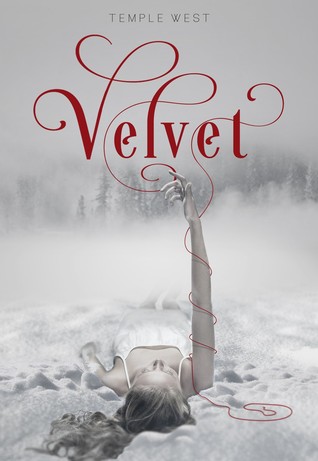 ABOUT
Title:
Velvet
Author:
Temple West
Series:
Velvet #1
Publisher:
Swoon Reads
Release Date:
May 12th 2015
Get it Here:
Indigo
Amazon
B&N
BookDepository
Goodreads Page
Synopsis:
First rule of dealing with hot vampire bodyguards? Don't fall in love.

After losing both her parents before age seventeen, aspiring designer Caitlin Holte feels like her whole world has been turned upside down, and that was before the terrifying encounter with a supernatural force. Then, she learns that her hot bad-boy neighbor, Adrian—who might have just saved her life—is actually a half-demon vampire.

Suddenly Caitlin is stuck with a vampire bodyguard who feels that the best way to protect her is to become her pretend boyfriend. Trouble is, Caitlin is starting to fall in love for real, while Adrian can never love a human. Caitlin trusts Adrian to keep her safe from his demon father, but will he be able to protect her heart?
~Interview~
Ri: Describe Velvet in one sentence!
Temple West: The sassiest high school vampire romance novel you will ever read.
Ri: Congrats on your debut novel! How does it feel to add "author" to your list of accomplishments?
Temple West: Thank you! Not gonna lie, it feels pretty awesome. Although it still feels very, very weird when I meet new people and they ask me what I do and I kind of mumble, "Oh, I'm a novelist" really quietly so they can't hear and then I have to repeat it louder because I'm a mumbler and they almost inevitably reply, "Wait, you're a novelist? Like, you write books?" and then I blush and nod and wish desperately that I could escape back into my hermit writing cave because I feel like an imposter because my book hasn't actually hit shelves yet and basically I'm just really socially awkward.
Ri: Was there anything weird or interesting that you learned while researching for Velvet?
Temple West: Well, not so much about WHAT I learned, but my process for research is kind of weird. When I first wrote the book, I was 19, and I spent two days just researching the town of Stony Creek. Who founded the town, did they have a railroad (the opening of the book was originally Caitlin [and her name was Casey back then] coming into Stony Creek on a train), what the weather cycles were like, the elevation, the population, the education system, etc. And then when I sat down to actually write the book, I maybe used .2% of what I'd learned because I realized all I really needed was the vague location of the real town (there is a real Stony Creek, NY), and the name. The rest I wanted to tailor to the needs of my story and the world in which it was set. Initially, I'd actually wanted to fly out to New York and then drive two hours to Stony Creek to conduct more research, but as I mentioned, I was 19 and could barely afford Top Ramen, let alone a plane ticket. So yeah, research is a funny thing. I also got super invested with learning about the cardiovascular system when I was trying to formulate my own mythology for why vampires need blood. Basically when I research for a story, I shut the blinds, close the door, and go into hyper-focus mode, emerging several days later with a major vitamin-D deficiency.
Ri:
If you were stranded on a desert island, what one book would you have with you?
Temple West:
Could I bring an e-reader with a solar-powered battery and satellite wifi capabilities? Because then I could bring all of the books.
(Ri says, "Smart!")
Ri:
What are you currently reading?
Temple West:
As boring as it sounds, I'm actually re-reading Story Structure Architect. It's one of my go-to books whenever I begin writing a new story, and helps me clarify the necessary plot points for the type of story I'm telling. It's a very practical, simple, easy-to-read sort of book, and I very much recommend it for other writers who may be struggling with not knowing what to write next.
(Ri says, "This interview was done in January, so I'm quite sure that Temple is reading something else by now. :D" )
Ri:
What do you like to do when you're not writing?
Temple West:
It seems like all I ever do when I'm not writing is sleep, drink coffee, or pursue other creative projects. Right now I'm about to start a new series of paintings, and I was just musing with my roommate about the possibility of building a practical loom (she's a fashion design student and wants to work with textiles). I also love writing songs, even though I am, at best, a mediocre singer, and can't play guitar or piano (Garageband FTW!). I also sew, knit, embroider, do book art (carving images or designs into books, or repurposing books into poetry or art), take random classes (hello, glass fusion), find beautiful antique things (steampunk for life), read good books, read bad books, watch TV and movies (which counts as research, because I'm also a screenwriter), record vlogs, eat bacon, and occasionally do laundry.
Ri:
I know that you do DIY projects. Is there anything you're currently working on?
Temple West:
Yes! So, back in high school I took every single art class my school offered, and then made up two or three independent studies so I could pursue projects that interested me but weren't necessarily covered in regular classes. But once I got to college, painting got put on the back burner. Now that all the edits for Velvet are done, I'm taking it up again, trying out new techniques, different surfaces (canvas, wood, metal), and basically having a blast. Writing and publishing Velvet was a dream come true and I'm so grateful and humbled by the experience, but it's also nice to work on something just for fun. Writing has been my bread-and-butter for several years now, and it's really great to have these other outlets to recharge my creative juices. Or, creative battery. Can you recharge juices? That's conjuring a really bizarre mental image.
(Ri says, "Again, this interview was done in January so she might be doing something different. Temple is actually selling some of the paintings she made! Check out her instagram, @bytemplewest")
Ri:
What's your favourite coffee drink?
Temple West:
Ooh! Okay, for everyday, year-round coffee, I prefer a vanilla latte with whole milk (fat free tastes like dish water to me, blech), or a London Fog. If it's Christmas, though, I'm all for the pumpkin spice and creme brulee lattes at Starbucks.
Ri:
Where would you like to travel, and why?
Temple West:
Oh my gosh, how about everywhere? Iceland, for sure. I feel like every sci-fi and fantasy movie that's come out in the past ten years has shot in Iceland. It's vast and epic and unearthly, and I'd go there for world-building inspiration. Norway and Finland, for the same reason. Germany, for the Schloss Neuschwanstein castle. If I had the budget, I would get married in that castle, it's basically the castle from Beauty and the Beast, which is my favorite movie of all time. When I was in college, I had the opportunity to spend almost five months in England, but I didn't actually get to travel much, so I'd love to go back and actually see all the things I missed the first time. Same thing with Paris! Versailles is definitely on my list. Let's see, there's Barcelona, Milan, Istanbul, St. Petersburg, Tibet, definitely Machu Pichu, and it's been a dream of mine to take a week-long train ride through the Rockies in Canada. Closer to home I really want to visit New York, New Orleans, and Disney World. I've been to Disneyland, and it is legitimately one of my favorite places on this planet, but I've never been to Disney World.
ABOUT THE AUTHOR
Temple West, debut author of the YA paranormal romance Velvet, is as nerdy in real life as she is on the Twitter. Armed with a very shiny English degree, she spent four months in Oxford holed up at the Radcliffe Camera amongst the hush of ancient books and the rich musk of academia. Returning to Los Angeles, she acquired a concurrent degree in film, mostly as an excuse to write essays about The Princess Bride and Hook. She can sew (poorly), drive stick (please fasten your seatbelt), and mostly lift her feet off the ground while stuttering into first gear on a very small motorcycle. She currently lives in Seattle and is the proud mother to a one-year-old laptop and a vintage Remington typewriter.


Happy Reading!