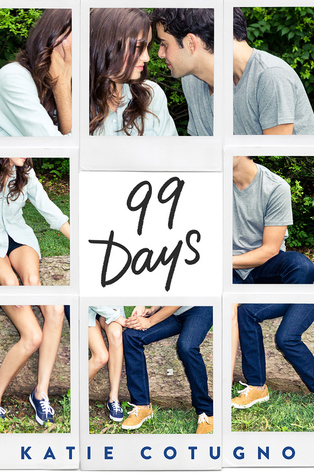 ABOUT
Title: 99 Days
Author: Katie Cotugno
Publisher: Balzer + Bray
Release Date: April 21st 2015
Source:
e-ARC via edelweiss
Synopsis:
Day 1: Julia Donnelly eggs my house my first night back in Star Lake, and that's how I know everyone still remembers everything—how I destroyed my relationship with Patrick the night everything happened with his brother, Gabe. How I wrecked their whole family. Now I'm serving out my summer like a jail sentence: Just ninety-nine days till I can leave for college, and be done.

Day 4: A nasty note on my windshield makes it clear Julia isn't finished. I'm expecting a fight when someone taps me on the shoulder, but it's just Gabe, home from college and actually happy to see me. "For what it's worth, Molly Barlow," he says, "I'm really glad you're back."

Day 12: Gabe got me to come to this party, and I'm actually having fun. I think he's about to kiss me—and that's when I see Patrick. My Patrick, who's supposed to be clear across the country. My Patrick, who's never going to forgive me.
Oh man! Who knew that so much could happen in 99 days? (That's like 3 months or so. Also, who gets 3 month summers in high school? Jealous!)
99 Days is about Molly Barlow, whose mom is a famous romance author. Her mom wrote a novel based on her situation with her ex boyfriend and his brother. She was basically slut shamed by the entire town and her ex- best friend who is the sister of her ex-boyfriend. She escaped her home town by going to a boarding school after being recruited for their track team. The summer after graduating high school, she returns to her home town for 99 days before she goes to Boston for university.
Her return to Star Lake is a whole journey in and of itself. It's a finding-yourself journey for Molly and I loved going along on the ride with her, despite my cringing at some of the things she does. I love her and her flaws, but most especially when she learns to stand up for herself. I like that she is relatable because she doesn't know what she wants to go into and she keeps making mistakes. It's human and I could definitely relate to her.
I kind of love Gabe. He's so freaking nice and sweet to Molly. He likes her for who she is and doesn't try to control her at all. And he gets it, the double standard. Though the town slut shames her, he knows that if she's getting blamed, he should be too. He's pretty perfect, though his rivalry with Patrick is a little gross.
99 Days is a great summer read that you can really just fly through. It shows how one summer can really change your life.
Happy Reading!