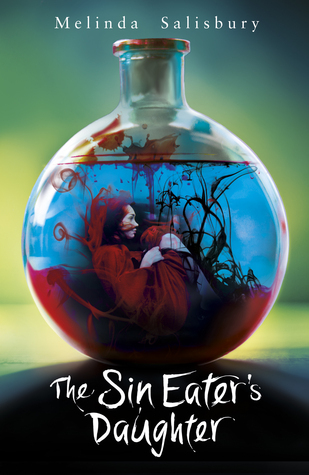 ABOUT
Title:
The Sin Eater's Daughter
Author:
Melinda Salisbury
Series:
The Sin Eater's Daughter #1
Publisher:
Scholastic
Release Date:
March 1st 2015
Goodreads page
Source:
bought
Synopsis:
I am the perfect weapon.
I kill with a single touch.

Twylla is blessed. The Gods have chosen her to marry a prince, and rule the kingdom. But the favour of the Gods has it's price. A deadly poison infuses her skin. Those who anger the queen must die under Twylla's fatal touch.

Only Lief, an outspoken new guard, can see past Twylla's chilling role to the girls she truly is.

Yet in a court as dangerous and the queen's, some truths should not be told...
I read this book in one day and man. I loved it.
The Sin Eater's Daughter is about Twylla, a girl acting as an executioner of traitors as her touch is poison. She was brought to the castle when she was young to act as Daunen Embodied, the living incarnation of the daughter of Naecht and Daeg, their gods. Because her touch is poison, she's often very lonely and no one wants to get close to her, in fear of being poisoned to death. The royal family are the only ones that can touch her by divine right and she is betrothed to Prince Merek.
Twylla has been forced to kill and follow the Queen's orders since she was small, since she is constantly threatened by the Queen that if she disobeys the Queen's orders, the Queen will withhold the money being sent to her family. Or perhaps the poison in Twylla's veins will kill her, as it is the gods' will that keeps her alive and safe from the poison.
I really enjoyed the plot of this novel and the political intrigue involved. It moved quickly and the world was really built well. The world is intricate and complex which made me really enjoy learning about the world inside the book. Melinda Salisbury created a real culture with beliefs, myths and rituals all their own and I thoroughly enjoyed learning about it.
Leif. . . Oh Leif. I really liked his character since the beginning of his presence in the novel and it only grew as time passed. He's kind and strong and treats Twylla like a person rather than the weapon that is Daunen Embodied. He has his faults, and I like him a lot more than I like Merek.
The Sin Eater's Daughter is a wonderful fantasy novel with a rich and complex world that leaves you wanting for more. I can't wait to read the next book and learn more about the characters presented to us in this novel.
Happy Reading!