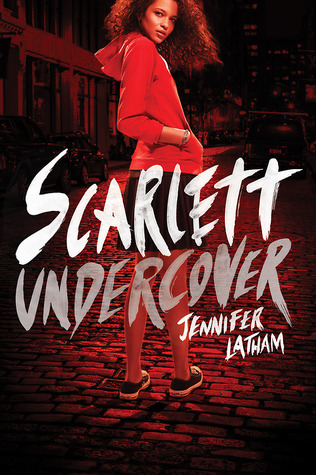 ABOUT
Title:
Scarlett Undercover
Author:
Jennifer Latham
Publisher:
Little Brown
Release Date:
May 19th 2015
Goodreads Page
Source:
e-ARC via NetGalley
Synopsis:
A voice-driven mystery perfect for fans of Veronica Mars.

Meet Scarlett, a smart, sarcastic, kick-butt, Muslim American heroine, ready to take on crime in her hometown of Las Almas. When a new case finds the private eye caught up in a centuries-old battle of evil genies and ancient curses, Scarlett discovers that her own family secrets may have more to do with the situation than she thinks -- and that cracking the case could lead to solving her father's murder.

Jennifer Latham delivers a compelling story and a character to remember in this one-of-a-kind debut novel.
Omygosh this book is so much fun and was much more than I expected it to be!
Scarlett Undercover is a novel about a Muslim American teenager who also happens to be a private detective. One day a little girl asks for her help to find out what's the deal with her older brother who has started to act really strange. It turns out, the problem is a little larger than she expected when she finds herself dealing with Jinn and family secrets.
I'm huge into mythology, the older the better. The Jinn mythology really interested me from the beginning since I never really took the time to look into Islamic mythology. I looked it up and a lot of it is quite true, though there are bits that were bent to fit the story of course. I enjoy the way the Jinn mythology is incorporated into the novel.
Scarlett is awesome. She know's muay Thai and she's a private detective. I liked reading about her struggles with her faith even though her parents were devout Muslims as is her sister. It's something that I and I'm sure many other people can identify with. She cares deeply for other people to the extent that it's a fatal flaw.
I also really enjoyed her relationship with Decker, a Jewish guy that Scarlett has known for forever and has feelings for. I like that their relationship was never really defined nor did it particularly "go anywhere". It just is a thing that is already established and the narrative is an event that both Decker and Scarlett go through together in their relationship.
The plot and the mystery of it kept me hooked since I had no idea what was going on and I really wanted to know what was going to happen next and what would Scarlett fall into.
Overall, Scarlett Undercover is a great diverse novel with mystery and mythology thrown in to create a story that people can relate to.
Happy Reading!