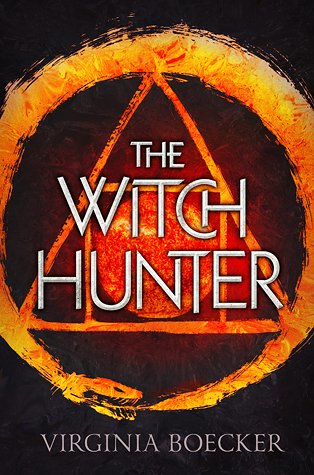 ABOUT
Title: The Witch Hunter
Author: Virginia Boecker
Series: The Witch Hunter #1
Publisher: Little, Brown Books for Young Readers
Release Date: June 2nd 2015
Source:
e-ARC via Netgalley
Synopsis:
The magic and suspense of Graceling meet the political intrigue and unrest of Game of Thrones in this riveting fantasy debut.

Your greatest enemy isn't what you fight, but what you fear.

Elizabeth Grey is one of the king's best witch hunters, devoted to rooting out witchcraft and doling out justice. But when she's accused of being a witch herself, Elizabeth is arrested and sentenced to burn at the stake.

Salvation comes from a man she thought was her enemy. Nicholas Perevil, the most powerful and dangerous wizard in the kingdom, offers her a deal: he will save her from execution if she can break the deadly curse that's been laid upon him.

But Nicholas and his followers know nothing of Elizabeth's witch hunting past--if they find out, the stake will be the least of her worries. And as she's thrust into the magical world of witches, ghosts, pirates, and one all-too-handsome healer, Elizabeth is forced to redefine her ideas of right and wrong, of friends and enemies, and of love and hate.

Virginia Boecker weaves a riveting tale of magic, betrayal, and sacrifice in this unforgettable fantasy debut.
This book is awesome.
The Witch Hunter is about Elizabeth, a witch hunter (obviously) who was arrested for being a witch, until a Reformist saves her from prison so that she may help them and fulfill her prophecy.
There isn`t much world building in the beginning, though it expands a whole lot more once we learn of the reasons behind the witch burnings and also once Elizabeth escapes from the prison. I really like the way it progressed and started with something simple and expanded slowly to become more complex.
I absolutely adore the way that Elizabeth`s character grows in this novel. She`s a witch hunter and it`s who she`s become since becoming orphaned. She never questioned her orders and is very good at her job. However, once she`s imprisoned and then comes to be in the company of some Reformists, the rebels, and learns more about them, she slowly starts to question her past and the things she`s done. She especially starts to realize the horror of the burnings and her status as a Witch hunter when she`s faced with the people whose families have been captured and burned at the stake. I just really enjoyed learning about her complexity and the things that make her tick. She`s great. LOVE her. Also, the way she and John act are super cute.
The plot was great and I really enjoyed the whole prophecy bit of it. I always love a good prophecy. It moved fairly quickly and there`s a lot of action in it with swords, blood and stabbing.
Overall, I really love this book and I highly reccomend it. The Witch Hunter is an action packed fantasy with great character development and it`s just great. READ IT.
Happy Reading!