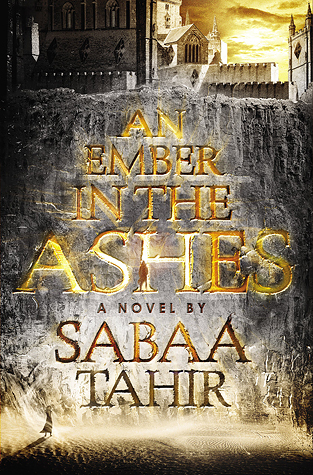 ABOUT
Title: An Ember in the Ashes
Author: Sabaa Tahir
Series: An Ember in the Ashes #1
Publisher: Razorbill
Release Date: April 28th 2015
Synopsis:
Laia is a slave.

Elias is a soldier.

Neither is free.

Under the Martial Empire, defiance is met with death. Those who do not vow their blood and bodies to the Emperor risk the execution of their loved ones and the destruction of all they hold dear.

It is in this brutal world, inspired by ancient Rome, that Laia lives with her grandparents and older brother. The family ekes out an existence in the Empire's impoverished backstreets. They do not challenge the Empire. They've seen what happens to those who do.

But when Laia's brother is arrested for treason, Laia is forced to make a decision. In exchange for help from rebels who promise to rescue her brother, she will risk her life to spy for them from within the Empire's greatest military academy.

There, Laia meets Elias, the school's finest soldier—and secretly, its most unwilling. Elias wants only to be free of the tyranny he's being trained to enforce. He and Laia will soon realize that their destinies are intertwined—and that their choices will change the fate of the Empire itself.
I've been hearing that this book is really brutal, but perhaps I've just been ruined by the brutality of Pierce Brown's Red Rising series. Those books wreck me and I just didn't find that An Ember in the Ashes was quite that brutal.
An Ember in the Ashes revolves around Laia and Elias, who both come from completely different worlds. Laia is a Scholar - a people that were conquered by the Martials. She lives in constant fear of the Martials and once her brother has been taken by them, she decides to join the Rebellion in order to save her brother. Elias is a Martial and is on the brink of graduating from a school that puts them through hell in order for them to become the strongest soldiers. However, secretly, he wants to be free from the Empire and its tyranny.
The world created by Sabaa Tahir is rich in life and detail making it effortless for me to slip into the world created by her words. The novel switches back and forth between the points of view of Elias and Laia, both their voices distinct.
And despite me saying that I didn't find that An Ember in the Ashes was that brutal, it still made my heart ache with the difficult choices Laia and Elias had to make in order to survive. I loved the interactions that the two had and since we are able to read from both their points of view, we are able to see what they both think of each other.
Overall this book is incredible and really kind of an epic book. I'm really so glad that there is a sequel because I haven't had enough of this world and Laia and Elias yet.
Happy Reading!