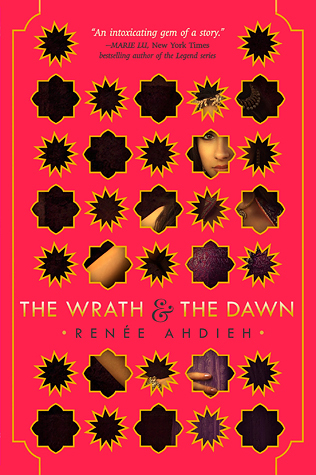 ABOUT
Title: The Wrath and the Dawn
Author: Renée Ahdieh
Series: The Wrath and the Dawn #1
Publisher: G.P. Putnam's Sons Books for Young Readers
Release Date: May 12th 2015
Synopsis:
One Life to One Dawn.

In a land ruled by a murderous boy-king, each dawn brings heartache to a new family. Khalid, the eighteen-year-old Caliph of Khorasan, is a monster. Each night he takes a new bride only to have a silk cord wrapped around her throat come morning. When sixteen-year-old Shahrzad's dearest friend falls victim to Khalid, Shahrzad vows vengeance and volunteers to be his next bride. Shahrzad is determined not only to stay alive, but to end the caliph's reign of terror once and for all.

Night after night, Shahrzad beguiles Khalid, weaving stories that enchant, ensuring her survival, though she knows each dawn could be her last. But something she never expected begins to happen: Khalid is nothing like what she'd imagined him to be. This monster is a boy with a tormented heart. Incredibly, Shahrzad finds herself falling in love. How is this possible? It's an unforgivable betrayal. Still, Shahrzad has come to understand all is not as it seems in this palace of marble and stone. She resolves to uncover whatever secrets lurk and, despite her love, be ready to take Khalid's life as retribution for the many lives he's stolen. Can their love survive this world of stories and secrets?

Inspired by A Thousand and One Nights, The Wrath and the Dawn is a sumptuous and enthralling read from beginning to end.
When my friends were raving about this book, they weren't wrong in their excitement and love for this novel.
The Wrath and the Dawn is a gorgeous fantasy retelling of A Thousand and One Nights. We follow the story of Shahrzad - the new bride of the monster boy-king, Khalid. Every night he takes a new bride and by dawn, they're dead. He killed Shahrzad's best friend Shiva and in order for Shahrzad to enact her revenge, she offers herself up as Khalid's new bride.
This debut book is so gorgeous and well written! I'm in love with Renee Ahdieh's words and the world she's created for these characters. It's not hard to find yourself sucked into the world of the novel. The plot is also really compelling. How will Shahrzad kill Khalid if she finds herself falling in love with him? Also, in the beginning as a prologue we are given a glimpse of a mystery that causes the ritualistic killing of the girls at dawn. Throughout the entire story, there's a tight hold on the secret until it's really needed.
I freaking love Shahrzad. She's stubborn and intelligent. She manages to devise a way to keep herself alive for another day and she's witty as well with the many retorts she has for the other characters in the book.
Khalid. Oh my Khalid. He's your classic broody, mysterious and tormented male love interest, but he's still so swoony. I could feel myself falling for him alongside Shahrzad and truly my heart aches for Shahrzad and Khalid's story.
Overall, this is a fantastic novel with lots of action, romance and some magic thrown in as well. I absolutely can't wait for the sequel, The Rose and the Dagger. This book has definitely made it into my list of one of my favourite books of the year.
Happy Reading!