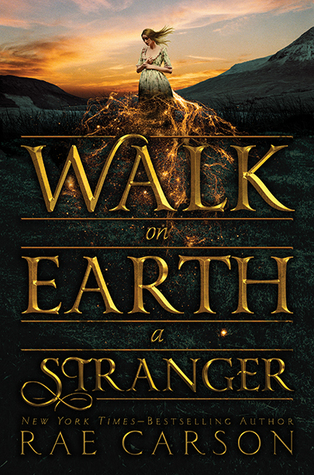 ABOUT
Title: Walk on Earth a Stranger
Author: Rae Carson
Series: The Gold Seer Trilogy #1
Publisher: Greenwillow Books
Release Date: September 22, 2015
Goodreads Page
Source:
e-ARC via Edelweiss
Synopsis:
Gold is in my blood, in my breath, even in the flecks in my eyes.

Lee Westfall has a strong, loving family. She has a home she loves and a loyal steed. She has a best friend—who might want to be something more.

She also has a secret.

Lee can sense gold in the world around her. Veins deep in the earth. Small nuggets in a stream. Even gold dust caught underneath a fingernail. She has kept her family safe and able to buy provisions, even through the harshest winters. But what would someone do to control a girl with that kind of power? A person might murder for it.

When everything Lee holds dear is ripped away, she flees west to California—where gold has just been discovered. Perhaps this will be the one place a magical girl can be herself. If she survives the journey.

The acclaimed Rae Carson begins a sweeping new trilogy set in Gold Rush-era America, about a young woman with a powerful and dangerous gift.
Walk on Earth a Stranger is about Leah Westfall, the daughter of gold miners in Georgia, during the Gold Rush. She has the ability to divine gold from the earth and it has done her family well, though they must keep it a secret because of greedy people. However, when tragedy strikes, Leah cuts off her hair and exchanges her skirts for pants as she runs off to California and away from her home.
I like Leah a lot. She's strong and hard working. She doesn't gel with the conformity of women at the time, especially after she's had a taste of the freedom when she dressed as a man. She is best friends with Jefferson McCauley, a half Cherokee boy who also runs off to California.
The entire novel was basically about the journey to California and while of course, there are many problems and many trials they had to face, there wasn't a clear goal beyond getting to California. When I was reading it, I didn't realize that this was the first novel in a series, so the ending makes a bit more sense to me now. However, I still didn't like it as it left me with a sense of "nothing happened." I thought the novel would have revolved more around her powers and how it factors into her life during the period of the Gold Rush.
So while I enjoyed the novel enough to read it all the way through, I wouldn't subject myself to reading the sequel. I was just kind of disappointed with this novel.
Happy Reading!