Hello everybody! I'm so excited to be part of the Fierce Reads blog tour and talk about some of the books that I read for this tour!
I was also given the chance to ask each of the authors a question, and here it is!
Are you similar to your character(s) in any way?
EMMA MILLS
I definitely relate to some aspects of certain characters. I identify with Devon's apprehension about change, and her desire to keep things as they are. I definitely struggled a bit with all the changes going on from high school into college (and later on, from college into graduate school!). On the surface, I'm probably most like Rachel Woodson; I was never quite that high-achieving, but I was always really into school and extracurriculars like she is!
JOSEPHINE ANGELINI
Not really, but they all have bits and pieces of me in them, I suppose. For instance, I've been known to be stubborn and my main character Lily is pretty stubborn. But she and I are very different people overall.
LEIGH BARDUGO
I think I share Jesper's need to make people laugh when things are bad, Nina's love of sweets and low cut dresses, Kaz's desire for solitude. I have something in common with all of my characters. Even the really bad ones.
LEILA SALES
My characters are all different from one another, but each one draws upon a different part of my personality. That'd what allows me to get inside their heads. What I share most with Arden, the main character of TONIGH THE STREETS ARE OURS, is an intense loyalty toward the people and institutions who I love.
Here's some information on the books and my reviews!
ABOUT
Title: Six of Crows
Author: Leigh Bardugo
Series: Six of Crows #1
Publisher: Henry Holt and Company
Release Date: September 29th 2015
Synopsis:
Ketterdam: a bustling hub of international trade where anything can be had for the right price—and no one knows that better than criminal prodigy Kaz Brekker. Kaz is offered a chance at a deadly heist that could make him rich beyond his wildest dreams. But he can't pull it off alone...

A convict with a thirst for revenge.

A sharpshooter who can't walk away from a wager.

A runaway with a privileged past.

A spy known as the Wraith.

A Heartrender using her magic to survive the slums.

A thief with a gift for unlikely escapes.

Six dangerous outcasts. One impossible heist. Kaz's crew is the only thing that might stand between the world and destruction—if they don't kill each other first.
Review
Six of Crows is so good. SO GOOD.
I haven't read the last book of the Grisha trilogy yet and I'm meaning to, but so many books, so little time. Anyways, I was able to still follow along with Six of Crows despite not having finished the trilogy. It would be a bit more confusing for people who haven't read any of the Grisha books to read Six of Crows first.
SIX OF CROWS is about a team of six people put together by Kaz Brekker in order to pull of a seemingly impossible heist in return for a more than handsome sum of cash. Each chapter is told in a different point of view of five of the six and we are able to learn a lot about each of the characters through their points of view and how they think.
I LOVE heist stories and despite the fact that this one is set in a fantasy world, it held just as much appeal to me. Although it is a fantasy world, the plotting of the heist and the follow through was very believable along with the fact that not everything goes according to plan.
I love the crew of six. Every one of the characters is dynamic and I can really imagine meeting them in real life except without the Grisha powers. Kaz is the leader of the six and the mastermind. He is sometimes called Dirtyhands because he is well known for doing whatever is needed to get to his goal. Inej is the spy and acrobat who gathers secrets for Kaz and is also called the Wraith. Jesper is the sharpshooter and the gunman who has a very serious gambling addiction. Nina is the Heartrender who uses her Grisha powers to survive in Kerch. Matthias is the Fjerdan convict with revenge on his mind. And then there's Wylan, the runaway with a talent for blowing things up and drawing.
I think of the six, Kaz is probably my favourite. He's cunning and slippery and always with a plan in the works. He's a Slytherin through and through and those are some of my favourite types of characters.
The plot of this novel was awesome and though it was slow in the beginning to get moving, it was still captivating to read the build up. I don't think I was bored for a second of this novel.
SIX OF CROWS is really one of the best books I've read this year and possibly one of my favourite books of all time. It's a stunning piece of work and I cannot wait for the sequel to this novel! I'm just so emotionally invested in these characters and the story.
ABOUT THE AUTHOR
Leigh Bardugo is the author of the New York Times-bestselling series The Grisha Trilogy. She was born in Jerusalem, grew up in Los Angeles, graduated from Yale University, and has worked in advertising, journalism, and most recently makeup and special effects. These days, she lives and writes in Hollywood, where she can occasionally be heard singing with her band. leighbardugo.com / grishatrilogy.com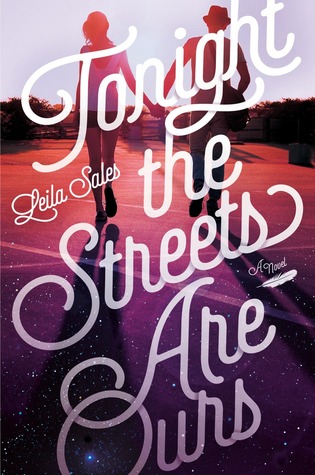 ABOUT
Title: Tonight the Streets are Ours
Author: Leila Sales
Publisher: Farrar, Straus and Giroux (FSG)
Release Date: September 15th 2015
Synopsis:
Recklessly loyal.

That's how seventeen-year-old Arden Huntley has always thought of herself. Caring for her loved ones is what gives Arden purpose in her life and makes her feel like she matters. But lately she's grown resentful of everyone—including her needy best friend and her absent mom—taking her loyalty for granted.

Then Arden stumbles upon a website called Tonight the Streets Are Ours, the musings of a young New York City writer named Peter, who gives voice to feelings that Arden has never known how to express. He seems to gether in a way that no one else does, and he hasn't even met her.

Until Arden sets out on a road trip to find him.

During one crazy night out in New York City filled with parties, dancing, and music—the type of night when anything can happen, and nearly everything does—Arden discovers that Peter isn't exactly who she thought he was. And maybe she isn't exactly who she thought she was, either.
ABOUT THE AUTHOR
Leila Sales (www.leilasales.com) is the author of the novels This Song Will Save Your Life, Mostly Good Girls, and Past Perfect. This Song Will Save Your Life garnered two starred reviews, was included on the American Library Association's Best Fiction for Young Adults list, was one of Bank Street College of Education's Best Books of the Year, and was listed as one of the Best YA Books of 2013 by Buzzfeed.com. It has been published in ten foreign countries, and it has been optioned for stage and film development.

Leila grew up outside of Boston, Massachusetts, and graduated with a degree in psychology from the University of Chicago. When she's not writing, she spends her time thinking about sleeping, kittens, chocolate, and how to get more of all of them. Leila lives in Brooklyn, New York, and works in children's book publishing. Follow her @LeilaSalesBooks.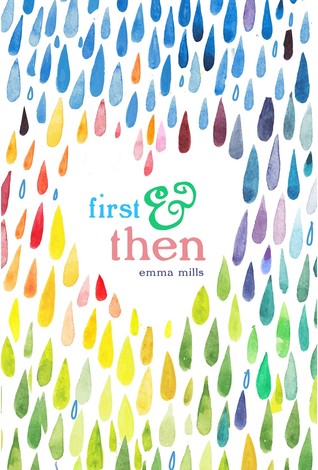 ABOUT
Title:
First & Then
Author:
Emma Mills
Publisher:
Henry Holt & Co.
Release Date:
October 13th 2015
Source:
ARC via distributor
Goodreads Page
Synopsis:
Devon Tennyson wouldn't change a thing. She's happy watching Friday night games from the bleachers, silently crushing on best friend Cas, and blissfully ignoring the future after high school. But the universe has other plans. It delivers Devon's cousin Foster, an unrepentant social outlier with a surprising talent for football, and the obnoxiously superior and maddeningly attractive star running back, Ezra, right where she doesn't want them first into her P.E. class and then into every other aspect of her life.

Pride and Prejudice meets Friday Night Lights in this contemporary novel about falling in love with the unexpected boy, with a new brother, and with yourself.
Review
How do I explain First & Then?
Reading First & Then is easy; It's easy in the way that breathing or blinking is easy.
First & Then is a contemporary YA novel about Devon Tennyson, a high school senior that's gets average grades and has no concrete plans for her future after high school except college, and not even a specific college. She's happy with the way things are and is not a fan of the new changes that were brought into her life for her senior year. First & Then details Devon's journey through new changes and learning about herself and the new people in her life.
Devon is so witty with her words and she's so funny. I wish I could converse with other people like she does. She's so real and I could find myself relating to her a lot. She has no idea what she's good at and so she finds it difficult to find something loftier to aim towards aside from simply getting into college, any college. I really enjoyed getting to know her and to follow her journey
Foster is Devon's cousin who is living with Devon's family for various reasons. He's the weird one who can be found in different, strange areas during parties. He has a surprising knack for football and gains the mentorship of the All American football star of the school, Ezra Lynley.
Ezra is the star of the football team with amazing stats and good looking to boot. A lot of people think he's an asshole and he's quiet despite his local stardom. However, there is more than meets the eye with Ezra. He's like baking chocolate as Jordan, the most popular kid in school, would call him. I really like him a lot later in the book and I can find myself relating to him as well in certain ways.
Jordan is great. He is the most popular kid in school that everyone likes. He has dreads and sometimes finds himself being Devon's counsellor. He always seems to show up when she needs someone to talk to. He's really supportive of both Devon and Ezra and he just seems to be really likeable. Hell, I want to be his friend.
The plot is fun and it's definitely helped along with Devon's witty comments. We follow Devon as she learns more about herself and the things she's good at. Though only several months pass in the novel, she grows more as a person and we get to watch as she falls in love with someone she finds to be an unexpected candidate. The one thing that really just kind of irked me a bit was when she mentally called the makeup-wearing niners, "prosti-tots" because they're wearing too much makeup for gym class and they're also still only 13/14. Thankfully, she does get called out on it in the novel.
Earlier I said that reading First & Then is as easy as breathing or blinking, and it's true. I found myself easing through the novel and before I knew it, I was done. First & Then is a super cute contemporary that's funny and really relatable and despite the ending being satisfying, I just wish it were a tad bit longer so I could have some more time with this story.
ABOUT THE AUTHOR
Emma Mills is a debut author better known to her subscribers as vlogger Elmify. She is also co-creator and co-host of the "life skills" channel How to Adult. youtube.com/user/elmify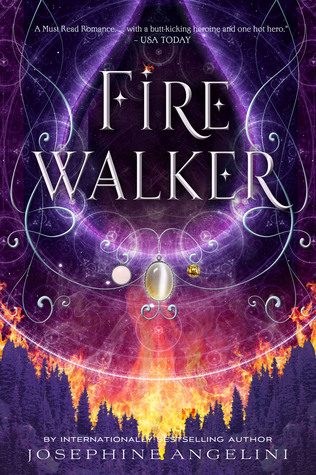 ABOUT
Title: Firewalker
Author: Josephine Angelini
Series: The Worldwalker Trilogy #2
Publisher: Feiwel & Friends
Release Date: September 1st 2015
Synopsis:
Worlds divide, magic slays, and love lies in the second book of Josephine Angelini's The Worldwalker Trilogy.
"You think I'm a monster, but my choices, as ruthless as they seem, are justified."

Lily is back in her own universe, and she's ready to start a new life with Rowan by her side. True, she almost died in the Pyre that fueled their escape from New Salem, and must hide her magic for the safety of everyone she cares about, but compared to fighting the Woven, the monstrous creatures inhabiting the alternate Salem, life is looking pretty good.

Unfortunately, Lillian, ruthless ruler of the 13 Cities, is not willing to let Lily go that easily. If she can't persuade Lily to return to her world, she will force her to come back by doing away with the ones she loves.

Picking up right where Trial By Fire left off, Firewalker is another sexy, fast-paced, heartbreaking thrill ride from internationally bestselling author Josephine Angelini!
ABOUT THE AUTHOR
Josephine Angelini is the internationally bestselling author of Trial by Fire and the Starcrossed series. She is a graduate of New York University's Tisch School of the Arts in theater, with a focus on the classics. Originally from Massachusetts, Josie now lives in Los Angeles with her screenwriter husband, her daughter, Pia Marie, and three shelter cats. You can visit her on Facebook, her website josephineangelini.com, or follow her on Twitter @josieangelini.
Check out the rest of the blog tour here:
Happy Reading!