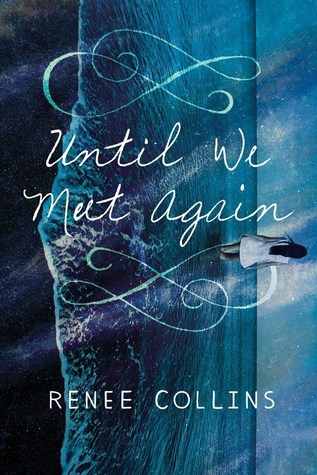 ABOUT
Title: Until We Meet Again
Author: Renee Collins
Publisher: Sourcebooks Fire
Release Date: November 3rd 2015
Synopsis:
They exist in two different centuries, but their love defies time

Cassandra craves drama and adventure, so the last thing she wants is to spend her summer marooned with her mother and stepfather in a snooty Massachusetts shore town. But when a dreamy stranger shows up on their private beach claiming it's his own—and that the year is 1925—she is swept into a mystery a hundred years in the making.

As she searches for answers in the present, Cassandra discovers a truth that puts their growing love—and Lawrence's life—into jeopardy. Desperate to save him, Cassandra must find a way to change history…or risk losing Lawrence forever.
Until We Meet Again is about Cassandra, a girl from Ohio who is spending the summer before her senior year in a coastal town of Massachusetts against her desires. She would rather be spending the summer in Paris with her best friend Jade, rather than at garden parties. The property that her parents rented, includes a private beach area and there, she meets Lawrence, a boy who is apparently from the 1920s. As they get to know each other, Cassandra learns of a truth that puts Lawrence at risk and she works to try and save the boy she loves.
Throughout the entirety of the novel, I was just thinking about the possible repercussions of this weird little time travel thing. What if learning of Lawrence's fate and trying to save him is a self fulfilling prophecy? I think that I've read and watched enough stories about time travel to know that time is not something to be messed about with lightly.
It's unfortunate but Lawrence didn't really capture my attention. He was nice enough and I love his 1920s lingo, but he was just sort of flat. He is a writer and doesn't want to follow the path that his Uncle has laid out for him - going to Harvard and becoming a business lawyer and then marrying Fay Cartwright. He's good looking and certainly charming enough, but I don't really see what Cassandra sees in him. I didn't really see the chemistry between Cassandra and Lawrence.
Cassandra is having trouble figuring out what to do with her life. She was interested in directing and her mother sent her to film camp. Then she was interested in painting and her mother paid for art classes. However, none of them held her interest for long. She doesn't want to be stuck in Massachusetts and in her act of rebellion, she does some stupid things like sneaking into her neighbour's pool just for the hell of it.
The plot was what kept me interested in the story. I wanted to know more about this little time travel anomaly and how things were going to turn out for the couple. I really like the way this ended and it wasn't what I hoped, but it was definitely what I expected. And despite the fact that I didn't really see the chemistry between the two, i definitely was rooting for them as the novel got to the end. I will admit shedding a few tears at the end. ;)
Overall, Until We Meet Again is a sweet time travel-y romance novel that stands alone. It's a great fun read for those who are interested in time travel romances (I'm a sucker for them)
Happy Reading!