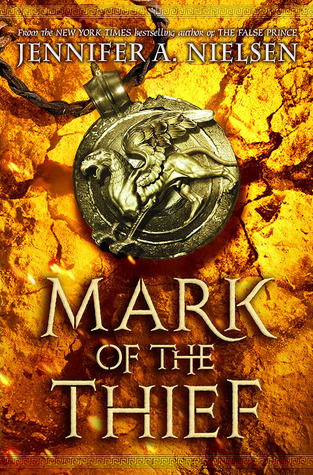 ABOUT
Title: Mark of the Thief
Author: Jennifer A. Nielsen
Series:
Mark of the Thief #1
Release Date:
February 24th 2015
Goodreads page
Synopsis:
When Nic, a slave in the mines outside of Rome, is forced to enter a sealed cavern containing the lost treasures of Julius Caesar, he finds much more than gold and gemstones: He discovers an ancient bulla, an amulet that belonged to the great Caesar and is filled with a magic once reserved for the Gods -- magic some Romans would kill for.

Now, with the deadly power of the bulla pulsing through his veins, Nic is determined to become free. But instead, he finds himself at the center of a ruthless conspiracy to overthrow the emperor and spark the Praetor War, a battle to destroy Rome from within. Traitors and spies lurk at every turn, each more desperate than the next to use Nic's newfound powers for their own dark purposes.

In a quest to stop the rebellion, save Rome, and secure his own freedom, Nic must harness the magic within himself and defeat the empire's most powerful and savage leaders.
Reading this book felt partially like a review of what I'm learning in my Roman History class. There was a good portion of the beginning where as I was reading it, I went "That's true, that's true." It's a testament to how much fact checking and research Jennifer A. Nielsen did for this book.
THE MARK OF THE THIEF is about Nic, a slave that has found himself in possession of a bulla, a golden pendant sort of thing, that once belonged to Julius Caesar and granted him magical powers. Caesar's bulla is known to grant powers and those that would desire the fall of the Roman Empire will stop at nothing to acquire the bulla. It is up to Nic to learn to control his powers and to save the Empire.
In true Roman fashion, the novel is peppered with betrayals and people working in their own self interest. Felix says it best, "Before you can understand Rome, you must understand where we began. We are a product of our history of violence, betrayal and blood." (P80) And in this way, it is hard to know who will truly help Nic and that they are not working towards one of their own goals we are unaware of.
Starting this novel surprised me. Nic's voice is so much older than I expected from a middle grade novel. Perhaps it's because I haven't read a middle grade book in quite some time. Nic is cynical and stubborn. He is self aware, especially when he realizes the magnitude of the task before him and the inadequacy of his own abilities. He has a clear set of morals that sets him apart from the Romans he crosses paths with, who will do as they must to achieve their ends. (Slytherins, the lot of them!)
Jennifer A. Nielsen seems to have a knack for adding twists and turns to her novels and it's a great joy for me to read her novels. I highly enjoyed this one and I can not wait to start the next one.
Happy Reading!