So if you don't know, I don't really read very many contemporary books. However, one of the premises that will have me interested in a contemporary novel is the fake relationship trope where a fake relationship between the two main characters is formed for some various reasons and obviously at some point they fall in love. I don't know what it is but I seriously love this trope!
So I had two books in my possession with this trope: The Fill In Boyfriend by Kasie West and No Love Allowed by Kate Evangelista. I read them back to back and I thought I would do a double review of both the books!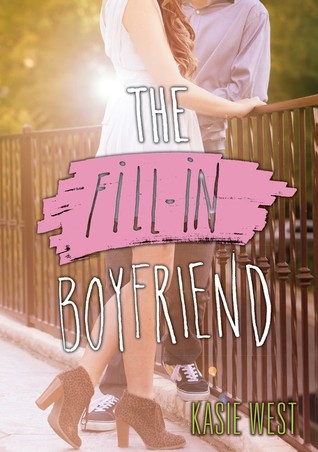 ABOUT
Title: The Fill-In Boyfriend
Author: Kasie West
Publisher: Harper Teen
Release Date: May 5th 2015
Synopsis:
When Gia Montgomery's boyfriend, Bradley, dumps her in the parking lot of her high school prom, she has to think fast. After all, she'd been telling her friends about him for months now. This was supposed to be the night she proved he existed. So when she sees a cute guy waiting to pick up his sister, she enlists his help. The task is simple: be her fill-in boyfriend—two hours, zero commitment, a few white lies. After that, she can win back the real Bradley.

The problem is that days after prom, it's not the real Bradley she's thinking about, but the stand-in. The one whose name she doesn't even know. But tracking him down doesn't mean they're done faking a relationship. Gia owes him a favor and his sister intends to see that he collects: his ex-girlfriend's graduation party—three hours, zero commitment, a few white lies.

Just when Gia begins to wonder if she could turn her fake boyfriend into a real one, Bradley comes waltzing back into her life, exposing her lie, and threatening to destroy her friendships and her new-found relationship.
OmyGOD. So cute!
The Fill In Boyfriend is another book in the series of super cute contemporary novels by Kasie West. This one centers on Gia Montgomery and a nameless boy that she recruits to be her fake date after her boyfriend dumps her in the parking lot just before entering prom.
Despite some questionable decisions that Gia makes in the beginning, I really like her as a character. Throughout the book we see how she grows into a better person and to really question some of the choices she's made in her life. Gia is one of the popular girls in school and despite some clique drama, she seems to have the perfect life. However, meeting Fill In Bradley and his sister changed her perspective and really made her realize just how dysfunctional her family is and her relationship with friends is.
Like seriously I kind of hate her friends. Though Gia is also at fault, her friends are terrible and I kind of wanted to strangle Jules. Jules is the character creating all the clique drama and trying to oust Gia from her friend group by inserting lies into their heads and making them doubt Gia. At every turn it seems like Jules is out to get Gia even though at one point Gia does try and be nice to Jules.
Fill In Bradley though. He cute. He's so cute. Fill in Bradley is sweet and nice and he's an actor. He's got his own flaws, which we can actively see in the book, but that just makes him all the more real and makes me want to add him to my book boyfriend harem.
Overall I really enjoyed this book and it's a great read for someone looking for a fluffy book that still has some depth to it.
ABOUT
Title: No Love Allowed
Author: Kate Evangelista
Series: Dodge Cove #1
Publisher: Swoon Reads
Release Date: April 19th 2016
Synopsis:
It's all fun and parties until someone falls in love in this modern fairy tale from author Kate Evangelista.

Caleb desperately needs a fake girlfriend. Either he attends a series of parties for his father's law firm with a pretty girl on his arm, or he gets shipped off to Yale to start a future he's not ready for and isn't sure he wants. And sadly, the last unattached girl in his social circle has just made the grievous mistake of falling in love with him. Fortunately, Didi, recently fired waitress and aspiring painter, is open to new experiences. As the summer ticks by in a whirl of lavish parties, there's only one rule: They must not fall in love!
Like. Omygod. This book was a cliche fest and it was so super sweet that I thought I would end up with a mouthful of cavities by the time this book was over. But it wasn't cliche and sickeningly sweet in a bad way.
This book was an adorable and sweet read centering on Diana "Didi" Alexander and Caleb Parker. Caleb's looking for a fake girlfriend to accompany him to all the events sponsored by his father's law firm and to keep away the matchmakers prevalent in his high society social circles. Didi just quite her waitressing job and she's looking for new experiences and why not take a look at how the rich people live?
Caleb and Didi have an instant connection and chemistry that has them pulling towards each other despite the strict rule of not falling in love with each other. Caleb has a history of dumping his "girlfriends" as soon as they fall in love with him. The story is told in a dual perspective that switches back and forth whenever and gives us insight into how both of them are feeling at certain moments. It's nice to know how both of them are feeling for each other but it also kind of adds to the sickeningly sweetness of it all. One of the things that I liked about this book was how it dealt with mental disorder and it gave me a real insight into it.
However, while this book was super cute and sweet, I felt like it lacked some depth. Their relationship felt really sort of shallow since they didn't really have any fights before the big climactic event.
Overall, this book was a quick and easy read with lots of super cute fluff in it. No Love Allowed is another take on the classic "fake boyfriend/girlfriend" trope and it does a great job at showing the chemistry between the characters despite their agreed upon terms.
Thank you to the wonderful Shelly @
Read.Sleep.Repeat
for letting me read her copy of No Love Allowed!
Happy Reading!