Waiting on Wednesday is a weekly event hosted by
Breaking the Spine
that spotlights upcoming releases that we're eagerly anticipating.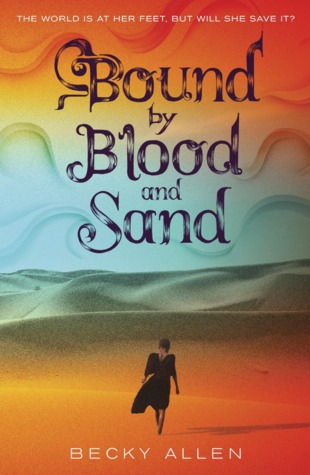 ABOUT
Title:
Bound by Blood and Sand
Author:
Becky Allen
Series:
Untitled Series #1
Publisher:
Delacorte Press
Release Date:
October 11th 2016
Synopsis:
Jae is a slave in a dying desert world.

Once verdant with water from a magical Well, the land is drying up, and no one remembers the magic needed to keep the water flowing. If a new source isn't found soon, the people will perish. Jae doesn't mind, in a way. By law, she is bound by a curse to obey every order given her, no matter how vile. At least in death, she'll be free.

Lord Elan's family rules the fading realm. He comes to the estate where Jae works, searching for the hidden magic needed to replenish the Well, but it's Jae who finds it, and she who must wield it. Desperate to save his realm, Elan begs her to use it to locate the Well.

But why would a slave—abused, beaten, and treated as less than human—want to save the system that shackles her? Jae would rather see the world burn.



Though revenge clouds her vision, she agrees to help if the kingdom's slaves are freed. Then Elan's father arrives. The ruler's cruelty knows no limits. He is determined that the class system will not change—and that Jae will remain a slave forever.
Not gonna lie, this title was what drew me in at first.
This synopsis sounds fantastic. A slave, bound to do whatever is demanded of her that is suddenly given this power to save the people who oppressed her. Omygod.
That bit speaks to me. SPEAKS to me. Maybe it's because I have a bit of a mean streak in me, but I kind of want to see her be vengeful and let the world burn. Obviously that's probably not going to happen, but who knows. Maybe it will. ;)
Happy Reading!