Hello my lovelies!
There's a read along happening right now for Stalking Jack the Ripper and I'm lucky enough to share Kerri's chapter thoughts on Chapters 5 - 9!
If you haven't read this book, here's some info!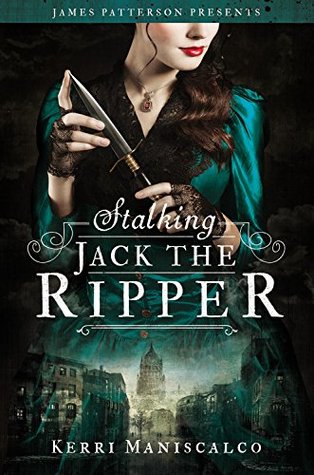 ABOUT
Title: Stalking Jack the Ripper
Author: Kerri Maniscalco
Series: Stalking Jack the Ripper #1
Publisher: Jimmy Patterson
Release Date: September 20th 2016
Synopsis:
Presented by James Patterson's new children's imprint, this deliciously creepy horror novel has a storyline inspired by the Ripper murders and an unexpected, blood-chilling conclusion…

Seventeen-year-old Audrey Rose Wadsworth was born a lord's daughter, with a life of wealth and privilege stretched out before her. But between the social teas and silk dress fittings, she leads a forbidden secret life.

Against her stern father's wishes and society's expectations, Audrey often slips away to her uncle's laboratory to study the gruesome practice of forensic medicine. When her work on a string of savagely killed corpses drags Audrey into the investigation of a serial murderer, her search for answers brings her close to her own sheltered world.

The story's shocking twists and turns, augmented with real, sinister period photos, will make this dazzling debut from author Kerri Maniscalco impossible to forget.
Purchase it Here:
I have also had the opportunity to read the novel and you can check out my review of the novel
here.
And with that all done and out of the way, here are Kerri's chapter thoughts for Chapters 5 - 9 of Stalking Jack the Ripper:
Chapters 5 - 9 Thoughts
I both loved and found myself silently screaming for Audrey during these chapters. We get a glimpse at how annoying society and gender restrictions would have been. Instead of focusing solely on the horrific case, the majority of men in her life question whether or not she can handle it. The parts I loved, however, were Thomas's skills of deduction being on full display. Audrey's admiration for him is growing as he encourages her and her ability to handle the murders, and the way they go out and actively hunt down clues. It was fun seeing their friendship and relationship move forward, and Audrey has a chance to show off a bit of her strengths.
Fun tidbit for chapter 9: during this scene I'd envisioned Mr. Thornley lying in bed, covered in sores, and barely breathing. I'm a visual person and find that pulling up photographs usually assists my muse with writing a clearer picture. There's this scene in the movie Se7en that I felt closely matched my own mental images, so this is what I pulled up to "inspire" the visceral atmosphere of the breathing curtains and the tension in the room.
Xoxo,
Kerri
You can check out this schedule to see the rest of the chapter thoughts as the read-a-long progresses:
October 18th: Chapters 1 - 4 thoughts
~Ava, Zee, and Booknut
October 20th: Chapters 5 - 9 thoughts
~ Sabrina Tam, Nicole's Novel Reads
October 22nd: Chapters 10 - 14 thoughts
~ Nicole (Little Fantasy Land)
October 24th: Chapters 15 - 19 thoughts
~ Irene
October 26th: Chapters 20 - 24 thoughts ~
Sabrina (Library Luv)
October 28th: Chapters 25 - end ~
Jordan, Nisha
Here's some more information on the read-a-long if you wish to join in and the calendar for the timeline as well! Click on the calendar to go to the page for the read-a-long information.
ABOUT THE AUTHOR
Kerri Maniscalco grew up in a semi-haunted house outside NYC where her fascination with gothic settings began. In her spare time she reads everything she can get her hands on, cooks all kinds of food with her family and friends, and drinks entirely too much tea while discussing life's finer points with her cats.

STALKING JACK THE RIPPER, a #1 NYT Bestseller, is her debut novel. It incorporates her love of forensic science and unsolved history.


Happy Reading!