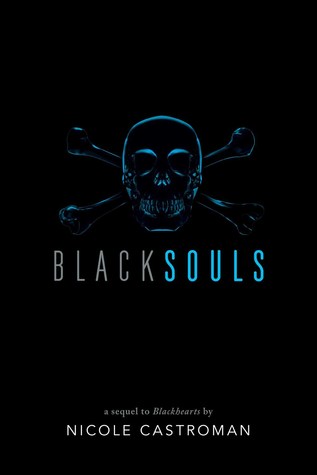 ABOUT
Title: Blacksouls
Author: Nicole Castroman
Series: Blackhearts
Publisher: Simon Pulse
Release Date: April 11, 2017
Synopsis:
Nicole Castroman brings the dangerous pirate ports of the Caribbean to life in this vibrant sequel to Blackhearts—the reimagined origin story of history's most infamous pirate, Blackbeard.

Edward "Teach" Drummond is setting sail to the Caribbean as first mate on the most celebrated merchant ship in the British fleet—until he rebels against his captain. Mutiny is a capital offense and Teach knows it could cost him his life, but he believes it worth the risk in order to save his crew from the attacking Spanish ships.

Sailing on the same blue waters, Anne barely avoids the Spanish attack, making it safely to Nassau. But lawless criminals, corrupt politics, and dangerous intentions fill the crowded streets of this Caribbean port. Soon, Anne discovers that the man entrusted to keep the peace is quite possibly the most treacherous of them all—and he just happens to hold Teach's fate in his terrifying hands.

Life and death hang in the balance when Teach and Anne are given a dangerous mission. It's a mission that will test their love, loyalty and devotion, forcing them down a path neither one could have ever imagined.
I loved Blackhearts. I
LOVED
Blackhearts. It's one of my favourite books of the year and the ending of the novel left me devastated. You can check out my review of the novel
here
.
So understandably I would be super excited for the sequel, especially since at the time of finishing the first book, it was uncertain whether or not there would be a follow up novel. I am so excited and kind of anxious to see what will happen between Teach and Anne, because to be honest it doesn't bode well when historically Blackbeard's ship was named Queen Anne's Revenge.
Also, Blacksouls releases a day before my birthday, so happy birthday to me!
Happy Reading!