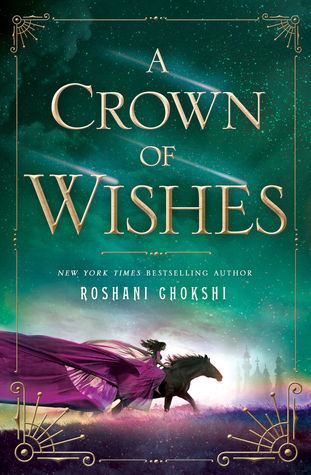 ABOUT
Title: A Crown of Wishes
Author: Roshani Chokshi
Series: The Star-Touched Queen #2
Publisher: St. Martin's Griffin
Release Date: March 28th 2017
Synopsis:
Gauri, the princess of Bharata, has been taken as a prisoner of war by her kingdom's enemies. Faced with a future of exile and scorn, Gauri has nothing left to lose. Hope unexpectedly comes in the form of Vikram, the cunning prince of a neighboring land and her sworn enemy kingdom. Unsatisfied with becoming a mere puppet king, Vikram offers Gauri a chance to win back her kingdom in exchange for her battle prowess. Together, they'll have to set aside their differences and team up to win the Tournament of Wishes—a competition held in a mythical city where the Lord of Wealth promises a wish to the victor.

Reaching the tournament is just the beginning. Once they arrive, danger takes on new shapes: poisonous courtesans and mischievous story birds, a feast of fears and twisted fairy revels.

Every which way they turn new trials will test their wit and strength. But what Gauri and Vikram will soon discover is that there's nothing more dangerous than what they most desire.
A Crown of Wishes tells the tale of Gauri and Vikram, a pair at odds who must work together to make it through a tournament created by the gods in order to win their prize -- a wish.
I love the characters so much. Gauri faces power struggles and vicious mind games from her brother, Skanda, the Raja. Vikram is heir to a false throne where his father's council wish for him to be only a puppet for their own agenda. Gauri is thorny and jaded and shaped through her survival of her brother's games. She is the personification of "The Road to hell is paved with good intentions." Vikram is called the Fox prince for a reason. He is charming and witty and kind. I connected with them so much and I didn't want the book to end just so I could spend more time with them.
Roshani's words are gorgeous and lyrical. It often reminds me of Laini Taylor in the way they both use their beautiful words to paint their lush worlds. She has the most delicious descriptions of food and she can make the mundane otherworldly. The book's magic also centres around Indian mythology which is not something I'm really familiar with and should really rectify.
However, what I loved most about this novel (aside from Vikram and Gauri), is the story. It brings two different people together and their drive to make it through the Tournament of Wishes brings them closer and closer together and it's a joy to watch. The book also tells a larger tale of how legends are created and the importance of stories.

A Crown of Wishes is a gorgeous tale of magic and danger with bold characters who are willing to do anything to free their kingdoms from those who would do it harm. I love this book.
Happy Reading,