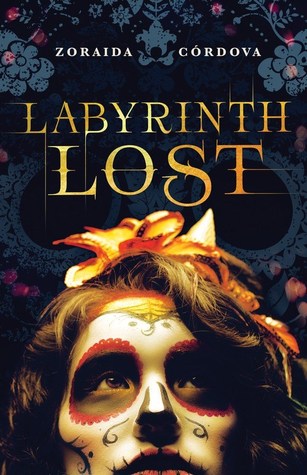 ABOUT
Title: Labyrinth Lost
Author: Zoraida Córdova
Series: Brooklyn Brujas #1
Release Date: September 6th 2016
Synopsis:
Nothing says Happy Birthday like summoning the spirits of your dead relatives.

I fall to my knees. Shattered glass, melted candles and the outline of scorched feathers are all that surround me. Every single person who was in my house – my entire family — is gone.

Alex is a bruja, the most powerful witch in a generation…and she hates magic. At her Deathday celebration, Alex performs a spell to rid herself of her power. But it backfires. Her whole family vanishes into thin air, leaving her alone with Nova, a brujo boy she can't trust. A boy whose intentions are as dark as the strange markings on his skin.
The only way to get her family back is to travel with Nova to Los Lagos, a land in-between, as dark as Limbo and as strange as Wonderland…

Beautiful Creatures meets Daughter of Smoke and Bone with an infusion of Latin American tradition in this highly original fantasy adventure.
It took me FOREVER to read this book. I was reading it and then life got in the way. (Aka finals and more schoolwork). I finally finished it when I went on vacation forChristmas break.
Labyrinth Lost tells the tale of Alex, a girl who comes from a long line of brujas -- witches. Magic has caused her nothing but pain throughout her life and she would like no better than to relinquish her powers so that she no longer has to suffer. However, as she finds a way to do just that, she sends her entire family into Los Lagos, a realm filled with mythical creatures and the souls of the departed. In order to retrieve the souls of her family, she must journey into Los Lagos and put herself at the mercy of a questionable brujo boy, Nova.
I really enjoyed this novel and the story it put forth. Alex is a headstrong character whose conviction in all things gets her into some dire situations, like her hatred of magic getting her family sent to Los Lagos. However, she's loyal and will do anything in her capability to get her family back.
The world that Zoraida Cordova has created is wonderful and magical. I love all the characters she's created and I loved reading her author's note, which elaborates on what cultures she's touched upon and the parts of the magic weaved into the story that are real cultures and which are made up. I'll definitely be adding some of the recommendations she's made in her author's note to my non-fiction reading list.
Labyrinth Lost is a wonderfully magical #ownvoices adventure with a bisexual, Latina main character. This book is great for those who are looking to read a fantasy novel with real culture tied in.