This book tag is created by Joey at
Another Afterthought
and Ambur of
Burning Impossibly Bright
.
"The Six"- A book with numbers in its name.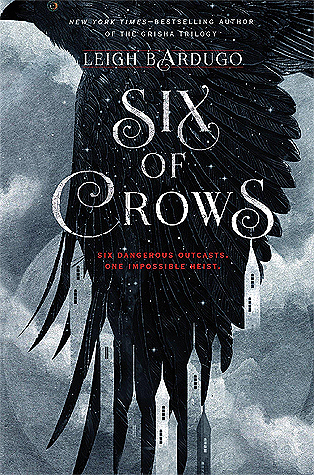 I mean. Self explanatory. But also, if you haven't read this book, DO IT. It's a heist novel in the Grisha universe. Also the number matches up with Toronto's "The Six" thing.
"Queen Street" - Favourite bookish merch
I don't actually have all that much bookish merchandise. What I do have is bookish swag, and my favourite of all kinds is notebooks. I'm a notebook fiend and I have too many blank ones and half filled ones to really warrant purchasing any more, but I want more. MORE.
"CN Tower" - The tallest/biggest book on your shelf
This book is massive. Probably not the largest that I own but it's up there. This book is both the tall format of hardcover and also 600 ish pages. Also, read this series because Laini Taylor's writing and world building is gorgeous.
"The DVP" - Most well read/worn out book you own
This is definitely my copy of The Lightning Thief by Rick Riordan. Part of the cover is bent and a corner is missing. I've definitely probably written in it at some point as a child. There are dog ears. This copy is wrecked.
"TTC" - A book that took too long to get to where it should
It just took too long to get to the actual fighting bits that I wanted to see. Most of the book is Fallon training to be in the ring and whatever gladiator fights there were, most of them were glossed over. Here's my review on this book, so you can read more in depth about my thoughts on this one.
"Toronto Sports Teams" - A book you expected to like but felt let down by (or your choice of Leafs, Jays, Raps, etc.)
I am a fan of the whole "fake girlfriend/boyfriend" trope, but this one just didn't do it for me. It was sweet and fun, but I wanted more depth to it.
"Lake Ontario" - Favourite fictional map
The hardcover of Bitterblue by Kristin Cashore is one of the most gorgeous books I own. The maps and the illustrations throughout the novel are just so pretty.
"Torono? Teronno? Tomato? Toronto!" - A character name you found difficult to pronounce
Okay. So not the characters, but the author, Siobhan Vivian's first name. I had no idea how to pronounce it until I watched Orphan Black (It's pronounced Shi-vonne). It's those Irish names, like Saoirse (pronounced Sersha) that are hard to figure out how to pronounce.
Anyone who wants to do this tag is welcome to do so! I tag you all.
Happy Reading!