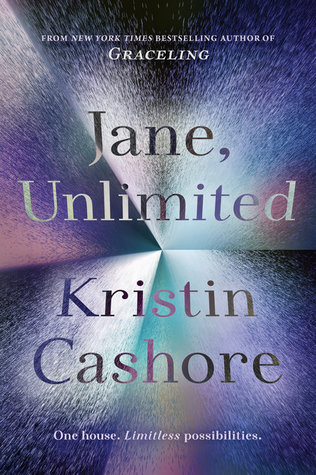 ABOUT
Title: Jane, Unlimited
Author: Kristin Cashore
Publisher: Kathy Dawson Books
Synopsis:
Jane has lived an ordinary life, raised by her aunt Magnolia—an adjunct professor and deep sea photographer. Jane counted on Magnolia to make the world feel expansive and to turn life into an adventure. But Aunt Magnolia was lost a few months ago in Antarctica on one of her expeditions.

Now, with no direction, a year out of high school, and obsessed with making umbrellas that look like her own dreams (but mostly just mourning her aunt), she is easily swept away by Kiran Thrash—a glamorous, capricious acquaintance who shows up and asks Jane to accompany her to a gala at her family's island mansion called Tu Reviens.

Jane remembers her aunt telling her: "If anyone ever invites to you to Tu Reviens, promise me that you'll go." With nothing but a trunkful of umbrella parts to her name, Jane ventures out to the Thrash estate. Then her story takes a turn, or rather, five turns. What Jane doesn't know is that Tu Reviens will offer her choices that can ultimately determine the course of her untethered life. But at Tu Reviens, every choice comes with a reward, or a price.
Let me preface this review by saying that this book is really weird and a massive departure from Kristin Cashore's previous series.
Jane, Unlimited centres around Jane -- an orphan and an umbrella maker. Before her Aunt Magnolia passed, Jane promised her to never pass up an opportunity to visit the island mansion, Tu Reviens -- a place that as far as she knows, her aunt has never visited. She is invited to visit Tu Reviens for their annual gala by her old friend and tutor, Kiran Thrash, the daughter of the prolific Thrash family that owns Tu Reviens. Jane's visit to this house will present her with five options, and each of them will change her life forever.
This book starts out with some background information on the house, Jane and the Thrash family as Jane arrives at this mysterious mansion, Tu Reviens. Eventually as we read further, we hit the crossroad where Jane is presented with her choices with each one leading to a different ending. However, each possible ending is also told in a different genre and with each one it got progressively stranger. It starts out with an art crime and mystery and then it progresses into other genres like horror and science fiction. Moreover, each of the timelines builds off of the information we learn in the first two or so possible endings which was really interesting and obviously made the story progress further into the things we have yet to know.
The house itself, Tu Reviens, is a character in the book. It's a mish mash of pieces of other houses that were sold off and then pieced together to become Tu Reviens. It's mentioned in the very beginning how strange the house is and in one timeline, the house is alive. In another, it provides a backdrop to some pretty creepy stuff.
There are consistent bits throughout the different timelines so that we sort of have a reference as to when things are happening and also to probably provide assurance that we aren't somehow reading a whole other book. And while each choice leads to different endings, they each solve different mysteries that are presented and I feel that we can choose to believe that all the endings provide the entire picture of the truth or that just one of them is possibly the entirety of the truth.
The cast of characters within the novel are also quite consistent. There is the Thrash family -- Kiran and Ravi are twins and biracial. Their father Octavian is distraught by his second wife, Charlotte's disappearance. Mr. and Mrs. Vanders are the caretakers of Tu Reviens and also caretakers for Patrick and Ivy Yellan who grew up in the house as children of the staff. There is Lucy St. George -- Ravi's older art recovering girlfriend and her cousin Colin Mack who works with Ravi on art. There are also some other guests in the house who arrived early in preparation for the annual gala. They also help provide as consistencies in the various timelines and also play a role in the possible endings.
I recently came across a video that covered the Remedial Chaos Theory episode of Community where a dice is thrown and whichever number it landed on, lead to a different sort of timeline. The way the person in the video discusses the episode coincides a lot with the topic at hand in Jane, Unlimited. You can watch the video
here
. This episode of Community is a pretty accurate comparison to Jane, Unlimted.
It's also clear that Cashore did a lot of research for this novel. A lot. Jane's Aunt Magnolia is an underwater photographer and there's mentions of specific places her aunt took photographs or her fascination with jellyfish. There was research involved in the art heist timeline and there was also research done into umbrellas. Jane is an umbrella maker and making them is often how she copes with new and unexpected discoveries and also how she channels her feelings. There are passages where we are with Jane as she builds and umbrella up from scratch.
Overall, Jane, Unlimited is a fascinating, "genre-bending" novel that is unlike anything I've ever read. It's intriguing and you can't help but get sucked into the novel. Jane, Unlimited is Kristin Cashore flexing her writing skills and the incredible amount of research and interweaving of timelines and endings is evidence of what the author has been working on since the ending of her much beloved Graceling series. While it's vastly different to her debut fantasy series, this book has the same smart storytelling seen in Bitterblue and the same kind of stories that stick with you for a long time after you finish reading it.
Happy Reading!