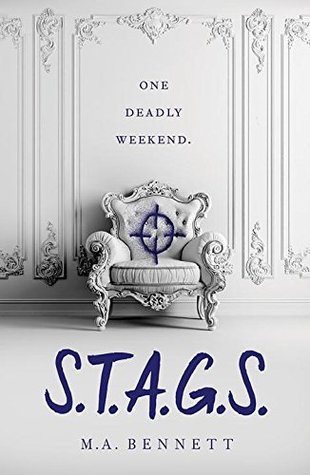 ABOUT
Title: S.T.A.G.S.
Author: M.A. Bennett
Publisher: Penguin Teen
Release Date: January 30th 2018
Synopsis:
Seventeen-year-old Greer, a scholarship girl at a prestigious private school, St Aidan the Great School (known as STAGS), soon realizes that the school is full of snobs and spoilt rich brats, many of whom come from aristocratic families who have attended the institute throughout the centuries. She's immediately ignored by her classmates. All the teachers are referred to as Friars (even the female ones), but the real driving force behind the school is a group of prefects known as the Medievals, whose leader, Henry de Warlencourt, Greer finds both strangely intriguing as well as attractive. The Medievals are all good-looking, clever and everyone wants to be among their circle of friends. Greer is therefore surprised when she receives an invitation from Henry to spend a long weekend with him and his friends at his family house in the Lake District, especially when she learns that two other "outsiders" have also been invited: Shafeen and Chanel. As the weekend unfolds, Greer comes to the chilling realization that she and two other "losers" were invited only because they were chosen to become prey in a mad game of manhunt.
What a trip!
S.T.A.G.S. is a thriller novel that revolves around Greer MacDonald's first year in the prestigious boarding school of the same name -- S.T.A.G.S. Really, it's an acronym for St. Aidan the Great School and holds a prestigious history of being over a millennia old, with the oldest part of the school having been built in the 800s. Of course with a school this old and prestigious there is a lot of classism that Greer and several other students endure. Then one day she is invited to a weekend holiday at the most popular boy in school's house. Things turn sinister as Greer realizes that not everything is as it seems.
This book was a really interesting read! I really enjoyed the world building created by M.A. Bennet. While it's not in a fantasy world, there is a lot of established lore and history for this ancient school that dictates a lot of what happens for the characters. Also, there are several things that give the reader a "something's kind of off" vibe, as we learn about the school. It's really kind of creepy, with the teachers insisting on being called "friar" regardless of gender and wearing monk robes. They adhere to a Tudor uniform and the popular kids of the school (called the Medievals) set the example by insisting on distance from technological media of any sort. There is definitely a sort of reverence for the past at STAGS that is borderline obsession. It's a running theme throughout the book that I quite enjoyed for it's added aura of creepiness to the whole thing.
Greer is earnest and perhaps an optimist. While she begins to see beneath the sinister veneer of the Medievals and STAGS, she can't help but hope that she is wrong about it all. I liked that and I could relate. There is only one character of colour in this book, Shafeen, a wealthy boy from Jhapur. It was most definitely to point out the lack of colour in the elite boarding schools and also to accentuate the blatant racism of the sinister Medievals as well. Moreover, the divide between old money and new money was pointed out through Chanel, whose father built a smart phone empire. She is ostracized by the Medievals due to her earnest attempts to fit in with the old money crowd, but not getting it just right enough for them.
The book is told in Greer's point of view in the sense that she is retelling it to us, the reader. The events have already happened for her and she points out the sinister nature of the Medievals in the beginning despite their seeming niceness. She gives a profile of Shafeen and Chanel and the reasons why they were with her at the weekend retreat. In the beginning I didn't quite like that I already knew about the "bad guys" already as I would have preferred to figure it out along the way. However, at the end as everything is revealed, I understand the need for it. The ending, the very last two pages, were perfect. I was shocked with that slight reveal with the trick of grammar that was foreshadowed near the beginning!
S.T.A.G.S. is a well paced psychological thriller that has a lot to say about the way people cling to tradition and an ending that will make you gasp.
Thank you to Penguin Random House and Penguin Teen Canada for inviting my blog to be a stop along this tour!
You can check out the rest of the blog tour stops here:
Happy Reading!