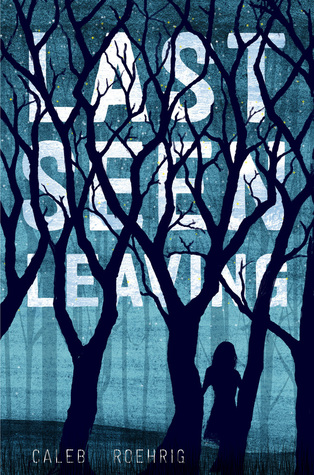 ABOUT
Title: Last Seen Leaving
Author: Caleb Roehrig
Publisher: Feiwel & Friends
Relase Date: October 4th 2016
Synopsis:
Flynn's girlfriend has disappeared. How can he uncover her secrets without revealing his own?

Flynn's girlfriend, January, is missing. The cops are asking questions he can't answer, and her friends are telling stories that don't add up. All eyes are on Flynn—as January's boyfriend, he must know something.

But Flynn has a secret of his own. And as he struggles to uncover the truth about January's disappearance, he must also face the truth about himself.
I'm kind of mad that it took me this long to read this. I'm just easily distractable okay?
Last Seen Leaving is the tale of Flynn, searching for the answers to his ex girlfriend's disappearance. The police had shown up at his doorstep with the news that January had gone missing. While he manages to convince the police of his innocence, Flynn is still searching for answers and finds that the stories told by various people in January's life did not add up. As he uncovers the truth of his ex girlfriend's circumstances and life, he is also grappling with his own sexuality and coming to terms with being gay.
Let me tell you. This book gave me straight up Gone Girl vibes. I was reading through Last Seen Leaving and perhaps I've been traumatized by Gone Girl and I didn't necessarily know whether to trust if January was truly dead or simply disappeared of her own volition. I mean. There's the incongruent stories told by the people in her life, the lack of the victim's body, the misrepresentation of Flynn to the various people in January's life. But anyways, no book has made my heart pound like this in a while. I had to start and stop the book multiple times because I could not deal with the Things that were happening. Truly a thriller.
Last Seen Leaving was a little predictable at points, but it was still a thrilling story. Caleb Roehrig's writing was really enjoyable and was a joy to read. I wasn't entirely engrossed into the world, simply because I find that is my own nature when I'm consuming thriller stories. I also find myself skim reading a lot, so really it's my own fault.
I have been told that Roehrig's next book is going to be amazing and I can't wait to read it! Hopefully it won't take me a million years to pick that one up either.
Happy Reading!