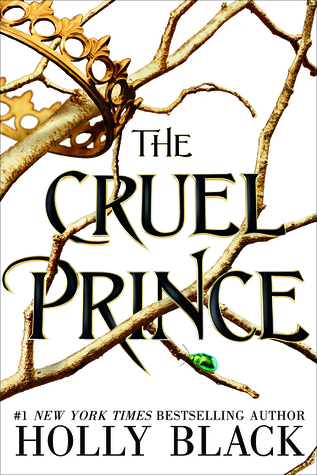 ABOUT
Title: The Cruel Prince
Author: Holly Black
Series: The Folk of the Air #1
Publisher: Little Brown Books for Young Readers
Release Date: January 2nd 2018
Synopsis:
Of course I want to be like them. They're beautiful as blades forged in some divine fire. They will live forever.

And Cardan is even more beautiful than the rest. I hate him more than all the others. I hate him so much that sometimes when I look at him, I can hardly breathe.

Jude was seven years old when her parents were murdered and she and her two sisters were stolen away to live in the treacherous High Court of Faerie. Ten years later, Jude wants nothing more than to belong there, despite her mortality. But many of the fey despise humans. Especially Prince Cardan, the youngest and wickedest son of the High King.

To win a place at the Court, she must defy him–and face the consequences.
In doing so, she becomes embroiled in palace intrigues and deceptions, discovering her own capacity for bloodshed. But as civil war threatens to drown the Courts of Faerie in violence, Jude will need to risk her life in a dangerous alliance to save her sisters, and Faerie itself.
The Cruel Prince was certainly a banger to end off 2017.
It's sometimes the hardest to write a review of books I love. How do I transform the feelings I hold for the book into words?
Holly Black has created a magical, dangerous faerie world that we are brought into through Jude. She is a human girl living in the faerie world after her parents were killed by Madoc, a red cap general who is the father of Vivi, Jude's older sister.
The story is absolutely scintillating, as we learn of Jude and her twin, Taryn's reluctance to return to the human world as it is all they grew up knowing. However, Vivi who is faerie, wants to return to the human world with her family. She delights in irritating her father.
There is constant action in the plot and it twists and turns, leaving me wondering what happens next. We are exposed to the cruel ways of the faerie and their politics. Jude wishes to stay in the faerie world through earning a place as the knight of one of the princes of the high king whereas Taryn plans on marrying into faerie. I'm a sucker for political intrigue and this book is definitely filled with it.
As I picked up the book, I was instantly sucked into the story with the way that the book begins, through a sort of flashback into how Jude came to be in her situation of living in Faerie with her mother's murderer. It took me about four days to bring myself to read the last 15% because I didn't want it to end. I then did bring myself to read it because what a way to end the year right? That ending was not what I expected and was a sort of last minute twist and had me kind of almost reeling?
I fucking love this book and I can't wait for the next one holy shit.
Happy Reading!