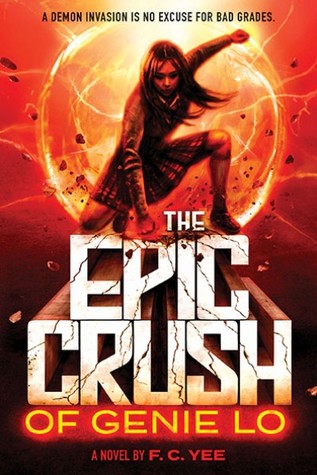 ABOUT
Title: The Epic Crush of Genie Lo
Author: F.C. Yee
Series: The Epic Crush of Genie Lo #1
Publisher: Amulet Books
Release Date: August 8th 2017
Synopsis:
She annihilates standardized tests and the bad guys.

Genie Lo is one among droves of Ivy-hopeful overachievers in her sleepy Bay Area suburb. You know, the type who wins. When she's not crushing it at volleyball or hitting the books, Genie is typically working on how to crack the elusive Harvard entry code.

But when her hometown comes under siege from hellspawn straight out of Chinese folklore, her priorities are dramatically rearranged. Enter Quentin Sun, a mysterious new kid in class who becomes Genie's self-appointed guide to battling demons. While Genie knows Quentin only as an attractive transfer student with an oddly formal command of the English language, in another reality he is Sun Wukong, the mythological Monkey King incarnate—right down to the furry tale and penchant for peaches.

Suddenly, acing the SATs is the least of Genie's worries. The fates of her friends, family, and the entire Bay Area all depend on her summoning an inner power that Quentin assures her is strong enough to level the very gates of Heaven. But every second Genie spends tapping into the secret of her true nature is a second in which the lives of her loved ones hang in the balance.
It took me a while to read this one -- a whole year since this book came out for me to read it. I was convinced by Sarah of the
YA Book Traveler
to take a chance on it because it's funny, as did several other people try to convince me. And convince me, she did! Even as the poll I put up on Instagram was split evenly between another book I wanted to read at the time.
Anyways, The Epic Crush of Genie Lo follows Genie who is determined to get into a top tier, Ivy League school when out of nowhere the new student, Quentin, is determined to get her to fight demons with him and save the world. The book takes on and modernizes the lore of the Monkey King and his complicated relationship with the heavens. As Genie realizes that she needs to help Quentin defeat the demons, she can't just put her life on hold as she tries to balance her new divine duties and her ambitions to get into the university of her dreams.
I really only have one problem with this book and it's a really petty, personal problem. I knew a Quentin growing up, and he is also Chinese. He was . . . not my favourite person in the world and all I could picture was his face as I read the book even though the book's Quentin is handsome and rugged and generally hot.
I really enjoyed the plot of the novel! I didn't expect it to be a story revolving around the Monkey King, which I have some vague notion of from my childhood. It's a really interesting and modern take on the gods and the lore as it's brought into the 21st century. It takes on the Buddhist ideas of reincarnation and also the way that one would imagine all divine and immortal beings are -- indifferent, sometimes cruel and generalistic. And I loved that, the way that Yee portrays the gods that we get to meet in the book. They could be kind but they were never really good in a conventional sense as they could also be no nonsense. If you're interested to learn more about the story of the Monkey King, there is a movie up on Netflix called The Monkey King with Chinese acting legends like Donnie Yen and Chow Yun Fat. I don't know if it's up on US Netflix though lol.
The banter between Genie and Quentin was really great as we watch Quentin's grasp on the human world develop and also the supportive nature he has with Genie. But what really shone about this book for me is Genie herself. She is dealing with a lot, from her university aspirations to her parental situation to the whole demon invasion thing. The disconnect that Genie feels with her culture is so relatable for me, especially when she said something about not knowing anything about Chinese pop culture which I definitely don't know anything about. And not only is it the disconnect, but also the whole dilemma of the desire to assimilate with the culture around you that can come at the cost of rejecting one's own heritage.
Overall The Epic Crush of Genie Lo is relatable and full of adventure and action. I can't wait to read the sequel and see what the gods and the universe have in store for Genie and Quentin.
Happy Reading!