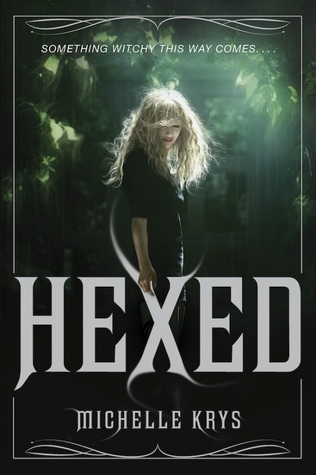 ABOUT
Title:
Hexed
Author:
Michelle Krys
Series:
The Witch Hunter #1
Publisher:
Delacorte Press
Publication Date:
June 10th 2014
Get it Here:
Amazon
Chapters/Indigo
BookDepository
GoodReads
Source:
e-ARC provided by Delacorte Press via Netgalley
Synopsis:
If high school is all about social status, Indigo Blackwood has it made. Sure, her quirky mom owns an occult shop, and a nerd just won't stop trying to be her friend, but Indie is a popular cheerleader with a football-star boyfriend and a social circle powerful enough to ruin everyone at school. Who wouldn't want to be her?

Then a guy dies right before her eyes. And the dusty old family Bible her mom is freakishly possessive of is stolen. But it's when a frustratingly sexy stranger named Bishop enters Indie's world that she learns her destiny involves a lot more than pom-poms and parties. If she doesn't get the Bible back, every witch on the planet will die. And that's seriously bad news for Indie, because according to Bishop, she's a witch too.

Suddenly forced into a centuries-old war between witches and sorcerers, Indie's about to uncover the many dark truths about her life—and a future unlike any she ever imagined on top of the cheer pyramid.
I completely did not expect that twist in the end. Damn, that really got me.
So anyways, I thorougly enjoyed this book and the intrigue about the Bible and the sorcerers really captured my attention. I thought that Indigo is an interesting character and that the character development that she went through was interesting. Throughout the story, we really get to see her grow into herself more and figure things out generally. She is one of the popular clique and she is all the things that you would expect of the people in a popular clique, except maybe for the mother who is the owner of an occult store. And as things start to change in her life, she grows up and grows out of that stereotype.
Paige was interesting as well. She wasn't fazed whatsoever with everything going on, in fact she was so supportive of Indy that it was a little strange. However, Paige was that voice of reason in Indigo's life, always telling her that her ideas were dangerous, because they were
actually dangerous
.
I enjoyed Bishop's banter and his character from the very beginning. Of course he was creepy in the beginning, but as we learn more about him, he's really sort of endearing, no matter what Indigo has to say about him. Seriously though, who names their dog "Lovely Lumpkins"? I liked Jezebel as well. She's entertaining and she's one of those frenemies that you can't help but love to hate.
The plot is well crafted because I completely did not expect that twist in the end nor the cliff hanger as well. Though in retrospect, looking back, I can see all the seeds planted for the plot twist. The sorcerers are absolutely terrible and though the witches aren't too much better, we get to see more of the sorcerers than the witches first hand. I really hate the sorcerors though I have no particular love for the witches either. I enjoyed watching Indigo struggle with learning magic and fitting herself into this new role of witch and just generally stumble her way along.
Quote time! I don't doubt that a lot of these are going to be from Bishop. I'm on a roll with reading books with snarky characters lately.
"And your grandma's actually aging really well. I bet she'd look hot in spankies." (Indigo not Bishop! *gasp*)

"'Okay,' the guy says. 'I'll guess, then. Flat tire? Out of gas? Feminine issues? It's feminine issues, isn't it?'"

"'Haven't got a last name,' he says. 'Who are you, Pink? Everyone has one.' 'Not me.'"

"'She's just pulling a Bella.' 'A what?' 'A Bella. You know - guy does you wrong, so you punish him by practically killing yourself.'"

"No, there were no magical powers involved in me lifting that bookcase, just six feet three inches of pure, unapologetic muscle."

"Everything around me is just a blur of color, a flash of movement, garbled sounds I can't quite decipher and don't want to."
That last quote is one of my absolute favourites because it rhymes and I was studying poetry a little while back and so that one really stuck out to me.
It's been a while since I've read something witchy and the last book wasn't all that great, so this one definitely gets me back into that genre! This book was fantastic and I definitely will be picking myself up a physical copy when it comes out and wait for the sequel with baited breath. Also, the author is Canadian, which is exciting for me! I look forward to hopefully see this book on the White Pine reading list in the years to come! Remember,
Hexed
comes out
June 10th
.
Happy Reading,