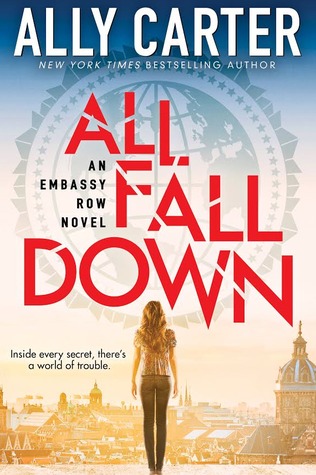 ABOUT
Title:
All Fall Down
Author:
Ally Carter
Series:
Embassy Row #1
Publisher:
Scholastic
Release Date:
January 27th 2015
Get it Here:
Indigo
Amazon
B&N
BookDepository
Goodreads Page
Source:
ARC provided by Scholastic (Thank you! :D <3 )
Synopsis:
A new series of global proportions -- from master of intrigue, NEW YORK TIMES bestselling author Ally Carter.

This exciting new series from NEW YORK TIMES bestselling author Ally Carter focuses on Grace, who can best be described as a daredevil, an Army brat, and a rebel. She is also the only granddaughter of perhaps the most powerful ambassador in the world, and Grace has spent every summer of her childhood running across the roofs of Embassy Row.

Now, at age sixteen, she's come back to stay -- in order to solve the mystery of her mother's death. In the process, she uncovers an international conspiracy of unsettling proportions, and must choose her friends and watch her foes carefully if she and the world are to be saved.
Grace's grandfather is the ambassador for the United States in the fictional country of Adria, and at the age of thirteen Grace watched as a man with a scar killed her mother. The thing is, no one believes her. They think she's crazy and
everyone
tells her that it was an accident and her mother wasn't murdered. She gets flashbacks when things remind her of her mother or the moment when she was killed and she won't stop trying to prove to the world that she isn't crazy.
Grace has some serious self image issues and I'm sure it comes with being called crazy for three years. She puts up a front of being fine when she's not. Also, her brother and her father are both military men and Grace has grown up being surrounded by men and not feeling strong enough or too small, which makes her wish to be male. This bit of Grace really hit me hard and I think it will for a lot of girls too. She's a complex and interesting character and I really can't wait to get to know her more and to watch her grow.
We meet some other characters in ALL FALL DOWN as well, like Noah Esteban, Grace's self-professed best friend. He's cheerful and kind to Grace, even as she threatens to break his fingers. There's Megan, Grace's childhood "friend", who has an unexpected side to her behind all the pink and glitter. Then there's Alexei, the Russian boy next door who is best friends with Grace's older brother, Jamie. He is looking out for Grace and he is SWOONY. I hope there's more Alexei in book 2 please! (and especially in a suit. ;D )
The plot for this book was fantastic and the way things turned out seriously caught me off guard. AND IT MAKES ME SO HAPPY. The entire book is told through Grace's point of view so we really get to see into her state of mind and the views she has of herself and how she's dealing with it. Embassies are interesting, especially involving the children/grandchildren of the ambassadors. Grace is from the States and Alexei is from Russia and it is frowned upon for the two to talk because of the relationship between their countries. Though a lot happens in this book, it's really clear that it's setting up the story for something bigger, especially with the way this book ends.
I think this is Ally Carter's best book to date. There are no words for how much I love ALL FALL DOWN. Ally Carter is one of my favourite authors. She writes stories on things that I love to read, a spy academy for girls, a teenage heist society, and now embassies and all the political struggle attached to them. It seems that the topics she chooses to write have become more interesting over the years. This is my favourite Ally Carter book by far. (Sorry, my Heist darlings. I love you.)
ALL FALL DOWN is a fantastic read with everything you could ask for and more. Ally Carter's writing and stories have gotten more sophisticated. Readers both new and old of Ally Carter's novels will definitely not be disappointed by this one.
&& TIME FOR THE GIVEAWAY!

I joined up as one of the Ally Ambassadors and they were giving away copies of the ARC to the Ally Ambassadors! Since I already had the honour of receiving and reviewing the ARC, I'm giving it away to you guys! It comes complete with the bag and everything!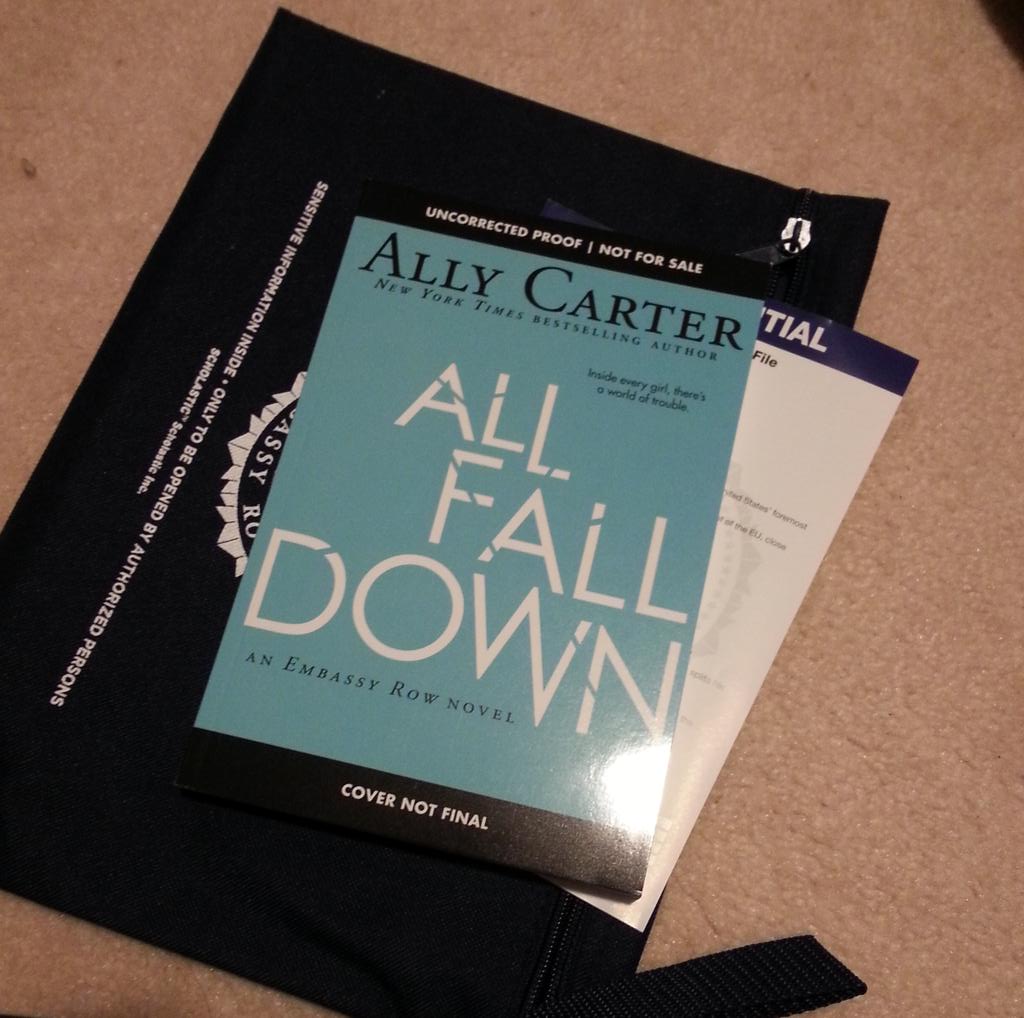 a Rafflecopter giveaway
Happy Reading!