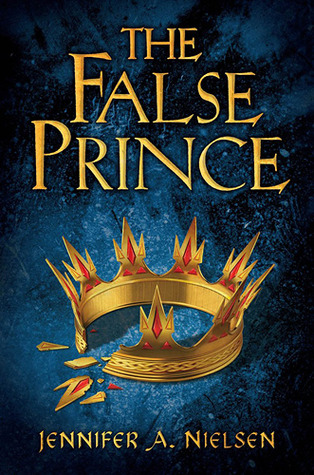 ABOUT
Title:
The False Prince
Author:
Jennifer A. Nielsen
Series:
The Ascendence Trilogy #1
Publisher:
Scholastic
Get it Here:
Indigo
Amazon
BookDepository
B&N
Goodreads page
Source:
The Library
Synopsis:
THE FALSE PRINCE is the thrilling first book in a brand-new trilogy filled with danger and deceit and hidden identities that will have readers rushing breathlessly to the end.

In a discontent kingdom, civil war is brewing. To unify the divided people, Conner, a nobleman of the court, devises a cunning plan to find an impersonator of the king's long-lost son and install him as a puppet prince. Four orphans are recruited to compete for the role, including a defiant boy named Sage. Sage knows that Conner's motives are more than questionable, yet his life balances on a sword's point -- he must be chosen to play the prince or he will certainly be killed. But Sage's rivals have their own agendas as well.

As Sage moves from a rundown orphanage to Conner's sumptuous palace, layer upon layer of treachery and deceit unfold, until finally, a truth is revealed that, in the end, may very well prove more dangerous than all of the lies taken together.

An extraordinary adventure filled with danger and action, lies and deadly truths that will have readers clinging to the edge of their seats.
I think this may have been the book that I didn't even know I was craving. Omygod this book is fantastic.
This book is about an orphaned thief named Sage, who is taken by a nobleman named Connor, along with some other boys, in order to turn one of them into the dead prince of the country and ultimately King.
I think you should all know by now how I am about books with thieves and also fantasy. I love and adore them with all my heart. Sage is witty and clever. He has a lot of snarky remarks that I highly enjoyed. Though he's only fourteen, he has a demeanor about him that is much older than he truly is. I suppose that comes with being an orphan and living in one of the barely functioning orphanages.
The plot of this novel is very quickly paced and something is always happening. I really enjoyed the cleverness of how the book was written. I enjoyed Sage's journey of transforming from an orphan boy to an aristocrat. Though he didn't want to be the prince, he learned to play the game in order to survive among the rest of the boys.
Connor was a really well created character. He's ruthless and will go to any means to get to his goal. There were times where he was somewhat "good" and most of the time, he wasn't good. You could tell that he had ulterior motives and some dubious morals.
In ways, I feel that this book is similar to Throne of Glass. Though the first book is fantastic, it's a setup book for a much larger plot at play. I can't wait to see what will be next for Sage in his journey!
Happy Reading!