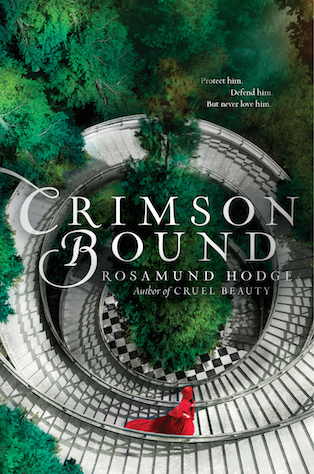 ABOUT
Title:
Crimson Bound
Author:
Rosamund Hodge
Publisher:
Balzer + Bray
Release Date:
May 5th 2015
Goodreads Page
Source:
e-ARC via Edelweiss
Synopsis:
When Rachelle was fifteen she was good—apprenticed to her aunt and in training to protect her village from dark magic. But she was also reckless— straying from the forest path in search of a way to free her world from the threat of eternal darkness. After an illicit meeting goes dreadfully wrong, Rachelle is forced to make a terrible choice that binds her to the very evil she had hoped to defeat.

Three years later, Rachelle has given her life to serving the realm, fighting deadly creatures in an effort to atone. When the king orders her to guard his son Armand—the man she hates most—Rachelle forces Armand to help her find the legendary sword that might save their world. As the two become unexpected allies, they uncover far-reaching conspiracies, hidden magic, and a love that may be their undoing. In a palace built on unbelievable wealth and dangerous secrets, can Rachelle discover the truth and stop the fall of endless night?

Inspired by the classic fairy tale Little Red Riding Hood, Crimson Bound is an exhilarating tale of darkness, love, and redemption.

(This is a standalone novel, not part of the Cruel Beauty Universe.)
I think Rosamund Hodge has secured a place for her books in my heart.
I'm personally not that huge a fan on retellings, because sometimes it doesn't add anything new to the story and it'sfollowing the same usual fairy tale base story. What I loved about Cruel Beauty and what I love about Crimson Bound is that the fairy tales have a dark, fantasy twist to them.
Crimson Bound is about Rachelle who was the apprentice to her aunt, who helped keep away the encroaching darkness that is devouring the sunlight. However, as a naive and prideful girl, she walked into the forest and was charmed into becoming one of the dark beings that she was apprenticing to protect people from. So she ends up working for the king and killing the monsters that emerge from the Great Forest, a great and terrible forest that exists on a slightly different plane than the human world.
I love Rachelle and her character. She is ruthless and she has a one track mind in her regret over what she has done. She is fighting for her own beliefs, and to try and atone for her own past actions. I love that she is unrepentant for who she is and that she is (mostly) true to herself.
Armand confused me a bit in the beginning as to his purpose (since I forgot allll about the synopsis when I started reading this). He is one of the many illegitimate sons of the king and Rachelle is charged with guarding him. He lost his hands to the evil powers that are threatening to take over the world, so they were replaced with silver ones. Also, because he survived the evil powers and isn't damned, like Rachelle, everyone sees him as a saint.
There's also Erec D'Anjou. No matter what anyone says about him, I kind of really love him. He's the charming and playboy captain of the guard that Rachelle is on. Though the two are (somewhat) friends, he constantly teases her with kisses and with kind of just embarrassing her.
This book is dark.
Dark
. Crimson Bound is a cross between Red Riding Hood and The Girl with No Hands. It's bloody and violent and magical. The lore is gorgeous and it's interspersed throughout the novel. There's also a lot of French inspiration to the book with the names and also the clothing and makeup as well. I love this book. However, the one thing that bothers me about this book is that there's a lot of religious talk in this book. A lot of religious mentions and also a lot of morality questions too.
Crimson Bound is a gorgeous dark fantasy Red Ridinghood retelling that has me both satisfied and just wanting more of the gorgeous worlds Rosamund Hodge creates.
Happy Reading!