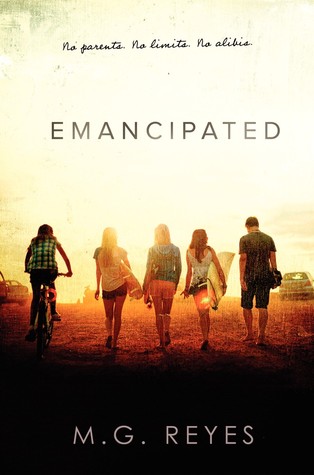 ABOUT
Title: Emanicpated
Author: M.G. Reyes
Publisher: Katherine Tegen Books
Release Date: May 26th 2015
Source: e-ARC via Edelweiss
Synopsis:
The good girl, the bad boy, the diva, the hustler, the rock star, and the nerd. Six teens legally liberated from parental control for six different reasons, all with one thing in common: something to hide.

Now they're sharing a house in Venice Beach, acting like a family, and living their lies. No parents. No limits. No alibis. One witnessed a crime, another might be a murderer—and one's been spying on them all.

As they cling to a fantasy of freedom and slowly let down their guards, the past creeps up on them. And when one of them gets arrested, everyone's carefully constructed facade comes crumbling down.

In this steamy, drama-filled series, relationships are tested and secrets revealed as lies threaten to destroy their perfect setup.
Uhh. . . what the hell did I just read?
Emancipated is about a group of teenagers who become emancipated from their parents for various reasons. They all end up renting and sharing the same house on Venice Beach. Various things ensue.
I really don't know how I feel about this book still. It feels really incomplete with the ending given and that nothing was really resolved at all. Emancipated alternates between the points of view of each of the members of the household. Through their points of view, we are able to learn what they are hiding from every one else and watch as the relationships between the various members of the household.
And through the different points of view, the reader learns of the different problems that they each have. It was fairly normal in the beginning, but as the book went on, it felt like it was trying really hard to establish some sort of mystery, which made it seem really strange. I think it would have been more interesting to me had the problems been more relatable instead of conspiracies and the like. While I like conspiracies, I didn't particularly like it in this novel.
The characters were complex and different from each other and I like that there's clear diversity within this group of teenagers. (However, I did get a little confused as one of the character's names is Lucy Long. I thought she was Chinese and it turns out she's black. )
I didn't like this book very much, but I stuck with it until the end mostly because I wanted to know what was going on.
Happy Reading!