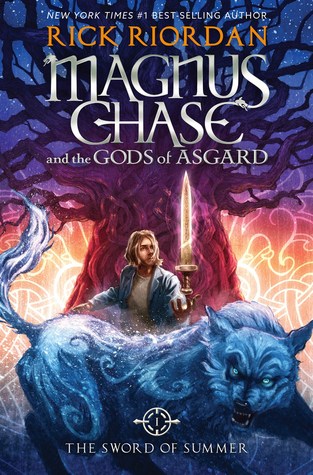 ABOUT
Title: The Sword of Summer
Author: Rick Riordan
Series: Magnus Chase and the Gods of Asgard #1
Publisher:
Disney-Hyperion Books
Release Date:
October 15th 2015
Goodreads Page
Synopsis:
Magnus Chase has always been a troubled kid. Since his mother's mysterious death, he's lived alone on the streets of Boston, surviving by his wits, keeping one step ahead of the police and the truant officers.

One day, he's tracked down by a man he's never met—a man his mother claimed was dangerous. The man tells him an impossible secret: Magnus is the son of a Norse god.

The Viking myths are true. The gods of Asgard are preparing for war. Trolls, giants and worse monsters are stirring for doomsday. To prevent Ragnarok, Magnus must search the Nine Worlds for a weapon that has been lost for thousands of years.

When an attack by fire giants forces him to choose between his own safety and the lives of hundreds of innocents, Magnus makes a fatal decision.

Sometimes, the only way to start a new life is to die . . .
Omygod. I love this book. I LOVE this book.
The Sword of Summer is the first book in Rick Riordan's new series, Magnus Chase and the Gods of Asgard. It centres around the Norse mythology instead of the Greek and Roman mythology of Percy Jackson and the Gods of Olympus series.
This book was written in the usual style of Rick Riordan, where his characters are snarky and funny. I mean, here are the first few lines of the novel:
"Yeah, I know. You guys are going to read about how I died in agony, and you're going to be like, 'Wow! That sounds cool, Magnus! Can I die in agony too?' No. Just no."
They have an attitude that brings them to life off of the page and it was really reminiscent to me of The Lightning Thief in their style of writing and also how the myths are introduced so naturally and in a funny and easily digestible way for the audience.
The plots of the Rick Riordan books are always great. They involve a lot of peril and struggle for the characters, but also a lot of strangely and hilariously modernized gods and monsters. The goddess of the sea, Ran, is a "bag lady" who likes to collect things she finds from the ocean. Her husband is into micro brewing and skinny jeans. Thor watches The Walking Dead and Game of Thrones on his hammer, Mjolnir.
And while the novel revolves around Nordic myths, Rick Riordan manages to inject diversity into the novel, with a Muslim valkyrie, a deaf elf and a half troll warrior. It's wonderful to read and also learn how Sam, the Muslim valkyrie, deals with fitting her valkyrie job into her life along with school and other things. I also really liked how her hijab was definitely mentioned (and can also be taken off and used as camouflage for up to two people!).
There were also several nods to the series that started it all, The Percy Jackson series. Of course, Magnus is the cousin of Annabeth, who we find is looking for her cousin in the very beginning of the novel. There's also a brief mention of disguising the sword as a pen,
"'I dunno. Something pocket-size and innocuous. A pen, maybe?' The sword pulsed, almost like it was laughing. I imagined it saying, A pen sword. That is the stupidest thing I've ever heard." (pg 244)
I laughed so hard aloud at that quote. Poor Percy.
The chapters always have hilarious titles and one of them has a brief mention of Jason Grace as well which I definitely found funny and it reminded me that I need to finish the Heroes of Olympus series.
Chapter forty eight is titled, "Hearthstone Passes Out Even More than Jason Grace (Though I Have No Idea Who That Is)".
The Magnus Chase series is definitely aimed towards the YA audience rather than Percy Jackson, which was aimed towards the middle grade audience.
The Sword of Summer was an absolute delight to read and it really made me nostalgic to read the Lightning Thief again. Rick Riordan has this magic to write the myths into the modern age and make it both entertaining and educational. His characters are so vivid in their personality that I feel like sometimes they're about to jump off the page. I adore Rick Riordan's novels and I definitely can't wait to read whatever of his works comes next.
Happy Reading!